By Daniel B.
Officially, you can no longer say there isn't a good place to go for espresso in the Capital Region. Because in November, Caffé Vero opened its doors on Lark Street, and these people take espresso seriously.
How seriously?
Well, before opening the Albany location they sent a sample of their water to a lab in California to learn how well suited it was for making espresso. As it turns out the water in Albany is pretty good. This meant they only needed to install a filter that removes dissolved solids and chlorine.
That along with at least a dozen other invisible steps is what goes into producing some of the richest most delicious espresso based drinks in the Capital Region. But it is their version of a macchiato that is really the ideal showcase for the best espresso in Albany.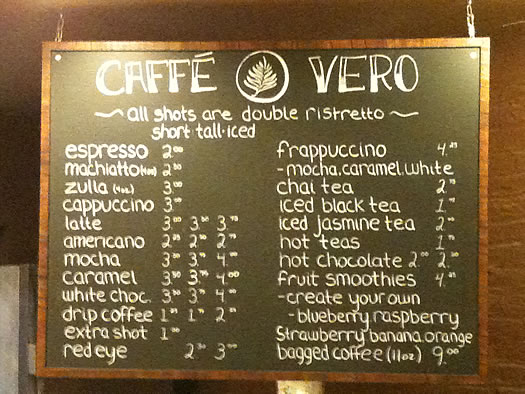 Let's start from scratch, because this is not a typical coffee shop, and theirs is not a typical macchiato. The macchiato at Caffé Vero is made according to the teachings of coffee guru David Schomer.
Who?
He's the founder of Seattle's Espresso Vivace. And in a town that has more than its fair share of coffee snobs, Shomer's espresso is widely regarded to be at the top of the heap. He is also the person who personally taught the owners of Caffé Vero their craft, and everything they do seems to be a tribute to their mentor.
It starts with beans that they roast in small quantities in their custom built Joper roaster up in Lake George twice a week. Currently Vero produces one blend for all espresso drinks, but are working to develop a more subtle and nuanced one especially for those who prefer their espresso without milk.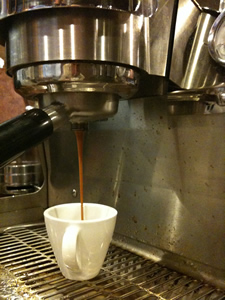 For espresso drinks, eighteen grams of those beans are ground, dosed and tamped to order. Beware of lesser cafes that think nothing of pre-filling a doser with ground coffee. It may be expedient, but it is a recipe for disaster. Generally this quantity of grounds is sufficient for two shots of espresso, but Shomer prefers his espresso even more concentrated, so at Vero the same amount of beans is used to produce what is known as a double ristretto.
A double ristretto is a concentrated, but decidedly less bitter shot of espresso with a rich, thick and persistent layer of golden emulsified oils (crema) on top. With the crema, it weighs in at only about one fluid ounce of espresso nirvana.
At many places if you ask for a double ristretto they will look at you like you are from Mars. But a Caffé Vero it is all that they do.
Traditionally a macchiato is a shot of espresso that is just marked with foam. That is not what you will get here. The Vero macchiato hits more of the sweet spot in between a traditional macchiato and a cappuccino. It is a four-ounce drink served in an eight-ounce cup.
It is easy to tell when you receive your drink that it is something special. Etched on the top of each glass is a bit of latte art made from milk foam and coffee. Sometimes it's the shape of a heart, other times it may be a leaf.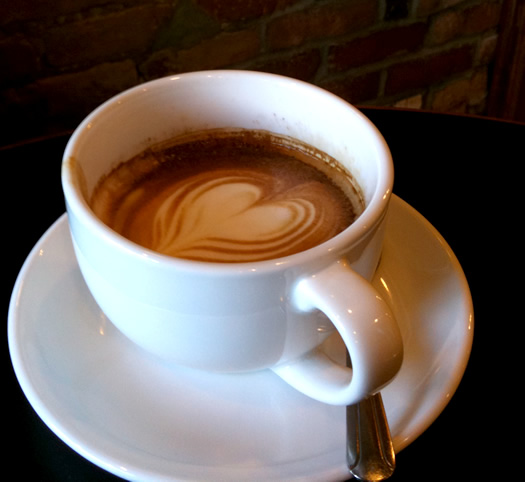 But if you were to take a closer look at the foam, you might notice something else. All of the bubbles are really, really tiny. It's called microfoam and it takes some skill and care to make. Your eyes may not notice the difference, but its superiority of texture on the tongue is unmistakable. One thing that helps Vero achieve this is that every drink starts with a fresh pitcher of cold milk. And not just any milk either, they are using the best milk around: Battenkill Valley.
When it all comes together, this drink is all about the enjoyment of espresso. The milk and the foam exist in such quantities as to enhance but not detract from this liquid essence of coffee.
Just make sure that should you decide to enjoy one yourself that you do it there, in a proper porcelain cup. A four-ounce drink doesn't take long to finish. And you can sip your macchiato while watching the people of Lark Street go by the two large picture windows up front or take advantage of their free wifi.
While the coffee lovers behind Vero are fastidious, they are not fascists. Unlike other places run by obsessive coffee geeks they will indeed sell you a cappuccino to go. They will even serve them after noon. For those who insist on having their coffee drinks flavored, Vero will also oblige. They understand that coffee is a very personal thing. So don't be afraid to customize your drink to your particular preferences.
But just once you should taste what they can do with a macchiato.
Daniel B. is the proprietor of the Fussy Little Blog.
Find It
Caffe Vero
260 Lark Street
Albany, NY 12210
Hi there. Comments have been closed for this item. Still have something to say? Contact us.