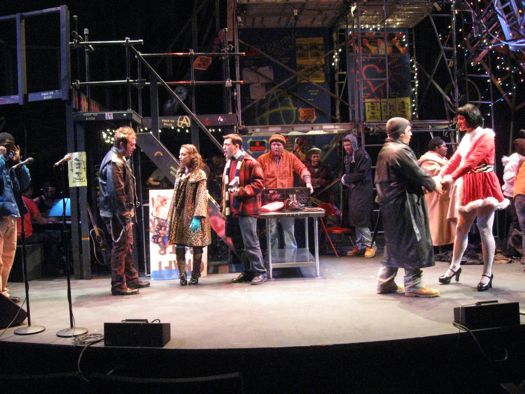 There are a lot of amateur theater productions in the Capital Region -- a lot of high quality amateur theater productions.
But few, if any, are as ambitious as Our Own Productions' version of Rent, opening this weekend at The Egg. The $22,000 budget is more that twice what is normally spent on a single local musical theater production.
It didn't start out that large -- but it looks like it could prove to be a worthwhile investment for the relatively new theater company.

The project was originally planned for Revolution Hall, but when the space suddenly became unavailable, the group rehearsed for a while without a home. Director Matthew Teichner was sure they'd find a space -- "We were looking for a storefront or something like that. We wanted to do something environmentally interesting." Then executive producer Susan Elliashuk checked out The Egg.
"I don't think that I would have gone to The Egg for any other show but Rent. Rent is such a draw and the full version has never been done by a local company. You just take a chance and hope that you made the right decision." So far, so good. Ellis says they've already made up the $700 per day cost of renting the theater with pre-sale tickets.
They're counting, in part, on "Rent-heads" (yep, apparently that's a term), the show's cult followers. Last year some of the original cast came to Proctors with the touring show, but this is the first full amateur production in the Capital Region, so it's kind of a big deal.
And it doesn't look amateur.
Last night was their first full rehearsal at The Egg. Maybe the space had something to do with it, but everything seemed to have an air of professionalism. Between Teichner, producer Jon Janssen, their crew, a very cool set (raised in one day by volunteers from RPI Players), terrific costumes, a great band and a super energetic and talented cast -- they've put together a community theater dream team.
Here's a clip from last night's rehearsal:
You can catch the show this weekend and next on Fridays at 8, Saturdays at 2 and 8 and Sundays at 2. Tickets are $26 general admission, $21 for students.
Hi there. Comments have been closed for this item. Still have something to say? Contact us.