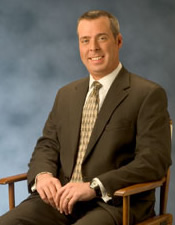 After we snarked on Twitter yesterday about the shifting forecasts for today's Icy, Snowy Apocalypse, Jason Gough -- a meteorologist at WNYT -- responded that we were being a bit, you know, cold.
He wasn't wrong! So we bounced a few questions Jason's way about forecasting snow storms, the feedback forecasters get when they're wrong, and whether meteorologists talk smack...
So, what happened to the Icy, Snowy Apocalypse that we were promised today?
We promise one thing from the NewsChannel 13 First Warning Weather Center every day: we will pull our hair out, pour over models and their respective runs, talk to each other on the phone/via email several times a day, look at past storm situations, take coffee intravenously... whatever it takes to put the best forecast out there. If that sounds corny, I apologize, but it is true.
Look at it from another angle... masochists aside, nobody wants or intends to be wrong. Why in the world would anyone put an 'off' forecast out there in front of tens of thousands of people? Short answer is they wouldn't.
The words "Icy, Snowy Apocalypse" were never uttered from 715 North Pearl Street. We did, however, forecast a sizeable early spring snowstorm that did not materialize for us. At the 11th hour (and to our forecasting horror), the storm took a jog to the east. Forecasters in northern and eastern New England are on the receiving end of that, so they're getting blistered as well I'm sure.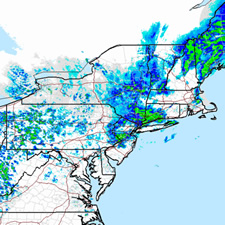 These types of coastal storms always seem to be causing surprises. How difficult are they to forecast -- and if they are difficult, why?
Not that this is any kind of excuse but they are difficult to forecast, more so than any other weather feature our area sees. A little shift in one direction or another makes a huge difference most times with these storms, especially this time of year when cold air is harder to come by.
This last episode is a perfect example: we look for consistency in each model from run to run (models update 2-4 or more times per day, depending on the model) and more importantly, we look for consistency between the models. The more consistency, the more confident we are in that facet of our forecast. Wednesday night, there was harmony with the models with respect to storm track and liquid amounts for snow. That held for Paul's forecast yesterday morning, as well.
Then... yesterday afternoon, it was like the models in their new runs all said, "Oh, yeah, I forgot to account for X in the atmosphere. Let's move this SOB farther east."
All we can do at that point is change our forecast and let everyone know about the changes as best as we can, then wait for the darts to start flying. That's what we did. The darts are still flying by the way, more on that below.
Do weather people get excited for big storms? Because you guys always seem a little more stoked when big snowfall numbers are in the forecast.
Not just yes, but hell yes. As a viewer, that's what you want to see for sure. We are not in the hype business here but when things get going, we're ready to roll.
Do forecasters keep track of their "batting averages"? You know, formally or informally -- if only so they can talk smack to each other ("Did you see how George totally whiffed on that coastal low!?!")
Everybody has their own way of tracking forecasts. That helps to mitigate future forecasting mishaps, among other things. The forecasters at Weather Service offices get evaluated (graded) on their performance.
No smack talking here (only when it comes to forecasting... we talk smack about other stuff), as our big forecasting events from severe weather to winter storms are a group effort.
We don't pay attention to "the other guys" and they probably don't care what we have to say either. That's not personal or a bad thing; it exudes confidence all the way around.
You had mentioned on Twitter that you've heard some pretty harsh stuff from people when a forecast is wrong -- what's some of the worst (and/or funniest) things you've heard?
I am writing a book on this, as a matter of fact. I compiled stories and email exchanges from meteorologists and forecasters/weather anchors from the top 50 television markets around the country, along with many of my own. I am curious to see if it will be of interest to the public (let me know, folks!).
I think most people would be absolutely shocked at some of the stuff we get thrown our way. The most common thing is that we're "always wrong", which is just goofy. Fact is, people are only remembering when forecasts go awry. We had a lot more good forecasts this winter than bad. It's all good, though. You have to have thick skin or you'll not make it in this business.
We also get a lot of emails and calls when we run those severe weather crawls along the bottom of TV screens. People only want to be warned for their areas, which I understand, but technology does not allow us to pick and choose whose televisions receive crawls. As a station, it is our moral and ethical obligation to warn our viewers of dangerous weather and the FCC demands we do as well.
Does the public have unrealistic expectations for weather forecasts?
I wouldn't say it's unrealistic to expect a spot-on weather forecast. As a viewer and as a meteorologist, I expect it. Sometimes though (again, a lot less than some folks think) it just doesn't work out that way. It doesn't mean we're stupid or incompetent or not trying, it means that there is more research to be done to improve forecasting. That research will continue for a long, long time to come.
This interview was conducted via email. It's been lightly edited.
Gough photo via WNYT | radar image: NWS
Hi there. Comments have been closed for this item. Still have something to say? Contact us.