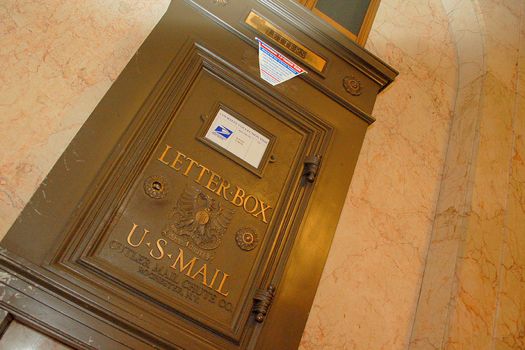 By Rob Madeo
When they put up buildings these days, the infrastructure for carrying data is built right in. Today's pipelines are copper wire and fiber optic cable, but in the past, the conduits for moving information were... well, actual conduits.
When 90 State Street was constructed it was equipped with a Cutler Mail Chute system. In 1929, this was the height of modernity. Instead of carrying your mail downstairs, you could just drop it in the slot and it went racing to the first floor.
Imagine the time it saved!

You could type a letter -- making a copy with carbon paper, of course -- and just step outside your office to send it on its way. Then you'd retire to your desk and perhaps smoke a cigarette.
Local mail would be delivered overnight; letters to other cities were packed on a train and barrelled off to Chicago, Philadelphia, or even California.
How quaint.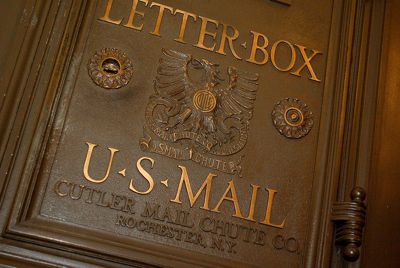 Now we get impatient if something won't download fast enough or our email message isn't answered in an hour. No cell service? Unbelievably frustrating. Look how aggravated people get when Twitter's on the fritz.
I decided to test the mail chute and send a letter from the 12th floor of 90 State Street to my house in Bethlehem. Seconds later it was in the box in the lobby waiting for the mailman. Lo and behold, the very next day it appeared in the box by the driveway.
The mail chute is just one of the things I love about my building. On the lower level there's a barbershop with tile floors, and on the corner you can belly up to the bar for a drink. There's a vast bank lobby downstairs, once the cathedral of cash, now vacant. It's easy to imagine how the offices above echoed with the clackety clack of typewriters and gurgling water coolers.
We have a different relationship with time today. Instead of measuring things in days, we parse it by moments, instants, nano seconds. It might be nice to live in in a time when there were no bits or bytes, when we weren't connected all the time, and the mail moved by gravity.

Rob can be found at lunchtime in downtown Albany huddled near a wi-fi hotspot.
Hi there. Comments have been closed for this item. Still have something to say? Contact us.