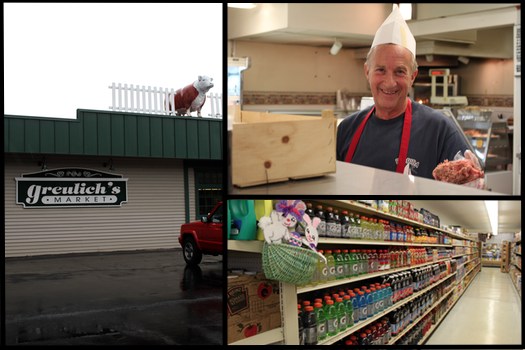 By Liz Clancy Lerner
It's Supermarket Week -- all this week AOA will have posts about grocery shopping. Because we all have to eat.
If you want to understand how Greulich's, an independent market, has made it since 1953 at its current location in Guilderland -- start with the people:
+ Edna Greulich, now 84, opened the market with her husband Arthur -- and is still at the store on a daily basis.
+ Eddie Lysiak, a butcher, recently received a thank you note and package of chocolate drumsticks from a customer thanking him for serving her family for 50 years.
+ And manager Robert Van Allen takes only three days off a year.
Greulich's can't offer gas cards or the absolute lowest prices on most items, so they offer service. And after six decades in business, it's still working for them.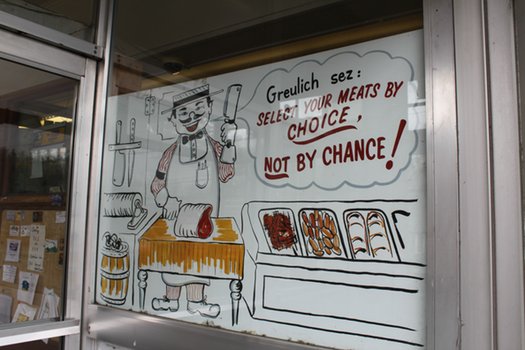 Robert Van Allen has been the manager at Greulich's for the past ten years.
What's the difference between Greulich's and the large chain supermarkets?
It's mainly the service and that [the customers] can get exactly what they want and they can get it on the spot and it's exactly how they want it.
This is a meat-driven store. We are one of the few places where we service the customers; it isn't self-service. You go in the store and you want a steak and it's a half an inch and you want it three-quarters of an inch -- you just tell our person what you want and they'll cut it.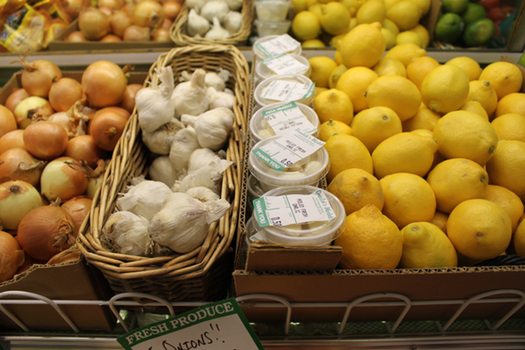 The other big, big thing here is our produce; the prices are tremendous. You gotta realize when you go into a big chain, their groceries are going to be cheaper; they'll always be cheaper because they buy railcar loads, where I buy one at a time.
I have a great produce guy; he goes down to the market and buys his stuff; he hauls it back up. He checks every case -- an old fashioned kind of guy. He has a regular truck he takes down to the market in Menands everyday and picks the produce up himself. He's very, very fussy.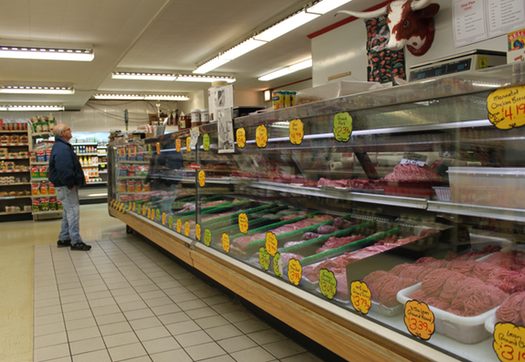 One of your butchers, Eddie, has been here 50 years; and many employees have been here a long time. Is that a goal, to hire people who are committed and really specialize in something?
It's becoming more and more difficult. It's not an attractive business because of the amount of hours. We're open 7 to 8, seven days a week. The younger people want weekends and nights off, so it's getting harder and harder.
How many people do you employ?
Probably 25-30. We get high school kids all the way up to Dinosaur Man Eddie. To the customers, I'll ask Eddie, "You got the dinosaur meat out there? You're the only one who knows how to cut it!"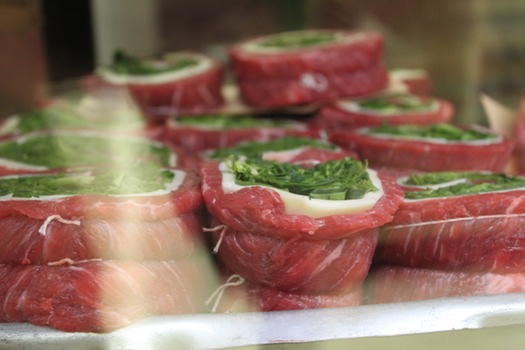 Is this a 5-day-a-week job for you?
I work every day [Saturdays and Sundays included], but about 3 days a year. The only days I'm not here are when I'm on vacation, or the two days we're closed: Easter and Christmas.
What keeps you here?
Well, it's just a work ethic. Plus, my wife passed away years ago... And my grandkids live in Glenville so I usually see them almost every day.
Do you prefer working here versus a larger supermarket?
Here, you set your own prices, you do your own displays, you get into your own gross profit -- where in the chain stores everything's set up for you by corporate level. So actually you learn more at this level than you do [there]... I've had a lot of people over the years from small independent stores go to corporate because they do know the whole business.
You become tight knit and you're able to do things on your own [here] where in a chain you have to just follow the policy 'bang, bang, bang, bang, bang.' The policies we follow are government policies, obviously. There's a lot of rules and regulations that we have to follow.
Do you have a lot of regular customers?
We see some people six, seven days a week. Having a guy like Eddie out there who knows his customers... some of these people were little kids and are now adults and have their own kids. They're still shopping.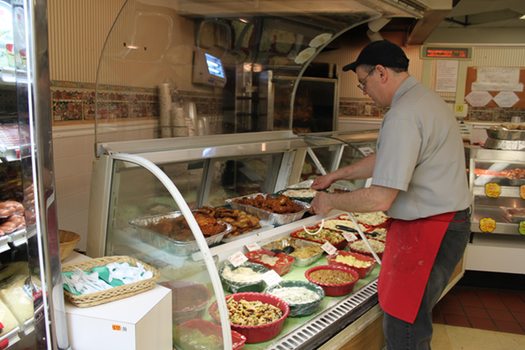 Meat and produce are your big things. It looks like you have a lot of prepared foods, too.
We have a guy who used to run the McLane's restaurant on Broadway in Schenectady. He does all our own cooking and makes everything from scratch, practically.
He's got several kinds of soup: beef pastine, chicken soup, cream of broccoli, beef noodle -- he makes all of them from scratch. It's not everything you get from a box or frozen. We cook our own rotisserie chicken, potatoes. He makes beef stew and several different entrees.
Has the store changed much over the years?
The biggest change is that years ago Hannaford wasn't down here, the beverage center wasn't down here. So when the other places come in, probably our grocery business has gone down a little bit -- but our perishables are still way up there because we can offer a more personal touch to that. The beer business has gone down because that's gone to drugstores and discount beverage stores because they get a huge quantity.
People are still looking for service, that's the whole thing. And if you still keep that service up and your reputation up, you'll do fine.
How is the store surviving with these large chains nearby?
I think it's the service. The meat and produce is what brings them into the store -- the groceries are not bringing them into the store. The biggest problem is getting qualified help; it's not an attractive business anymore. People want the time off -- I can't blame them, but I'm on the other end, too, looking for help.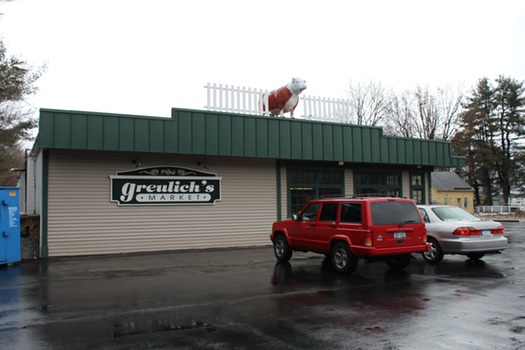 What do you see for the store in the future?
I think from what I gather, and I'm not positive, basically not much more retail is allowed on this road due to zoning. There's a lot of houses around here, so that's good for us as far as that goes.
But it's becoming more and more difficult. Like Chopper with the gimmicks and the gas cards and all that stuff -- they've got a lot of money to do all those other things. But we've gotta do it with service.
This interview has been lightly edited.
____
Greulich's first opened on Broadway in Schenectady in 1949, and then moved to a spot on Carman Road in 1950 -- they had to move down Carman to their current location in 1953 because of the construction of the Thruway. [Schenectady Gazette 1988]

Find It
Greulich's Market
3403 Carmen Rd.
Schenectady, NY 12303
The market is in Guilderland -- but the address comes up as Schenectady in Google Maps and other services.
Hi there. Comments have been closed for this item. Still have something to say? Contact us.