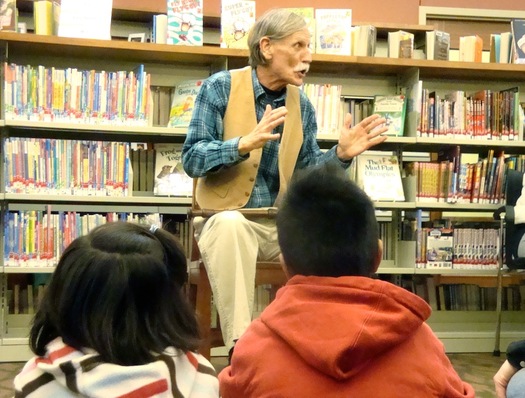 By Akum Norder
It's no mean trick to fascinate six-year-olds. But to hold the children and their parents in rapt attention? That requires a gift.
It's a gift that will be in great abundance this week, as public libraries in Albany and Rensselaer counties play host to the Riverway Storytelling Festival.
Riverway is a community storytelling festival that's been held in the Capital Region annually since 2003. There are more than 20 events in all this week, and all of them are free. Some performances are for families; others are meant for adults. All of them celebrate the art, the power, and the joy of storytelling.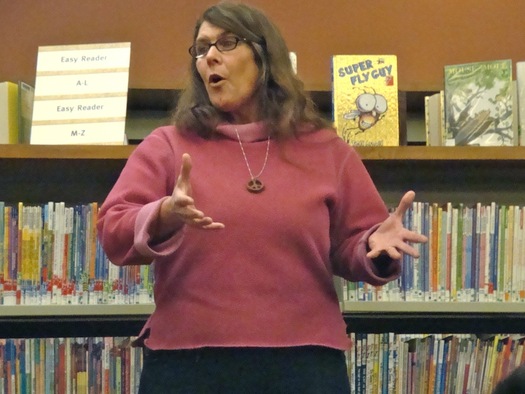 Claire Nolan performs Monday in Albany.
At Monday evening's performance at Albany's Delaware Branch library, local storytellers Bill Cliff and Claire Nolan took turns sharing tales. Their stories had something of the energy of live theater: The performers used voice, rhythm, movement, even music to bring the audience into their worlds.
Some of the stories were familiar in their particulars -- playing kickball in the driveway, weeding the garden. Others were fanciful -- the spoiled prince, the talking mouse -- and yet still familiar: They reminded us of the values we share. Generosity. Kindness. Moderation.
That's what is so compelling about storytelling: It creates community. The stories were a shared experience, somehow both more personal and more communal than sitting alone with a book.
Riverway offers other free storytelling events every day this week, today through Sunday, at locations around the Capital Region.
Several events feature storytellers of national acclaim:
Joe and Jesse Bruchac, father and son, who work to preserve Abenaki stories and culture;
Lyn Ford, a teaching artist who describes herself as a fourth-generation storyteller;
and Bill Harley, who twice has won Grammys for his spoken-word albums for children.
The featured storytellers' performances are free -- as are all other festival storytelling events -- but because seating is limited, tickets are required. See the schedule for more information.
Feel like spinning a yarn yourself? Come to Saturday's "Story Swap," where anyone can share a tale, as long as it's under 7 minutes.
Otherwise, just go and listen. And perhaps you'll leave with a tale to tell.
Hi there. Comments have been closed for this item. Still have something to say? Contact us.