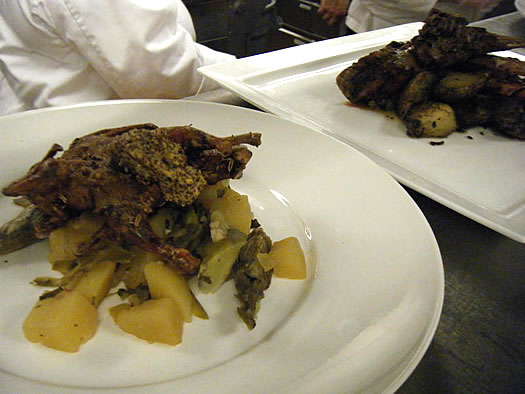 By Albany Jane
If you haven't been to the Casola Dining Room at Schenectady County Community College, you are missing out on one of the area's interesting culinary experiences. Where else can you get three courses for $22, tax and tip included? And that's for dinner. The same menu is available for lunch, and costs a mere $16.
The Casola Dining Room is a simulated restaurant where students in SCCC's culinary programs can apply their studies. Think of it like a mock trial -- it's not exactly real life, but pretty darned close.
Everything at the Casola Dining Room -- from front of house to back of house -- is run by students, with the help of a few instructors who quietly observe and are ready to step in if needed.
This is no second-rate experience -- for either student or diner. Yes, it's an educational experience, but the students are getting graded, so there is a sincere effort to do well. Meals include appetizer, main course, dessert, and beverage (soda, coffee, tea). There is also coffee/tea service with dessert, and you can BYOB wine for a $3 corkage fee.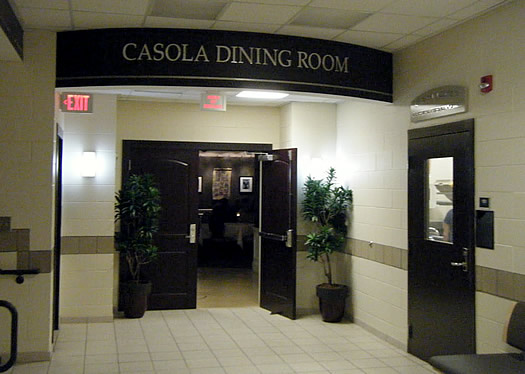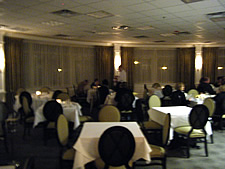 Once you walk past the school hallways and into the dining room, it feels like you're in a real restaurant. The dining room is relaxing -- quiet, comfortably spaced tables with linen and full settings, and soft lighting.
Are you a timid diner? Afraid to send something back to the kitchen or to let your server know you ordered a diet Coke, but got a Sprite? You don't have to be here. If there are errors, they want you to say something. Now, I'm not saying you need to come here and unleash your inner Gordon Ramsey and eat every dish with a critical tongue. But if your lamb comes out overcooked, undercooked, over salted, or with the wrong side, tell your server or one of the instructors who will come by to monitor the night's progress. If everyone replied "Dinner was great. Perfect. Thanks!" when there were a few minor squeaks, the students would have lost a learning opportunity.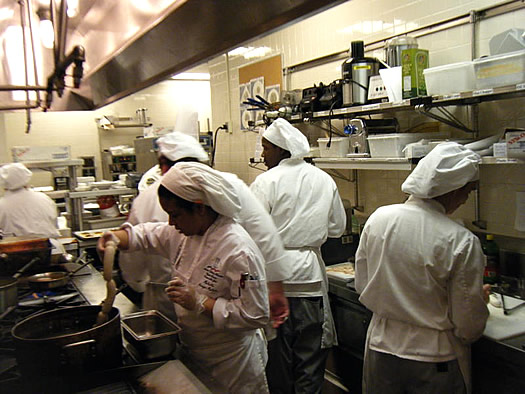 Chef Christopher Tanner, one of the program's instructors, recently allowed me to peek into the kitchen during a dinner service. There is a serious emphasis on cleanliness - students are constantly washing their hands, changing gloves, and cleaning their stations. It's like walking into a kitchen at a fine restaurant (by the way: the kitchen was designed by the same person who designed the kitchen at Daniel Boulud's eponymous restaurant in Manhattan), and the students are very focused on turning out quality dishes from their stations.
The school tries to make as many components of the dishes in-house as possible. If you have sausage on your plate, it's very likely made by students. And dear goodness, their cured meats are delicious, too. The school will soon begin selling charcuterie, pickles, and sauerkraut alongside baked goods in their bakery (open only 11:30 am - 2 pm), and on Tuesday nights during dinner service.
It takes some planning to arrange a meal at the Casola Dining Room. Dinner service is held Monday-Wednesday evenings, with seatings at 7:00 and 7:30. Lunch service is held Tuesday, Thursday, and Friday at 12:00 and 12:30.
You can make reservations up to two weeks in advance by calling their reservation number at 381-1391 at 10 am. Spots fill up quickly. Like, 20-minutes-after-reservations-open quickly. Your best bet for scoring a reservation is to call just as the clock hits 10 am. If you get a busy signal, re-dial until it rings again. I like to set an alarm for 5-10 minutes ahead of time so I don't miss out. Conversely, if you can only plan things at the very last minute, you could also call them the day you'd like to dine to see if there are any cancellations.
There are just a few dates left in the spring semester -- the program starts up again in the fall semester.
Albany Jane writes about her food adventures at Albany Eats.
Find It
Casola Dining Room
Schenectady County Community College
Schenectady, NY 12305
Hi there. Comments have been closed for this item. Still have something to say? Contact us.