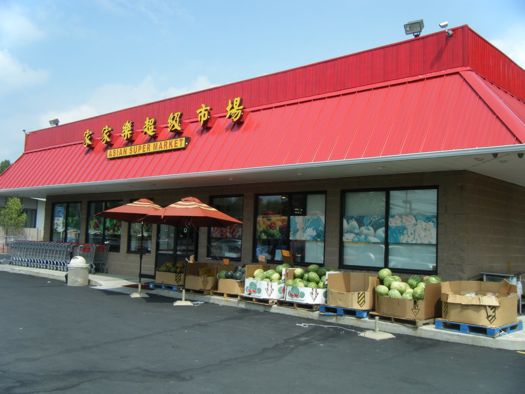 By Albany Jane
It's Supermarket Week on AOA -- a whole week of posts about shopping for food. Because we all have to eat.
For years I've been shopping at the Asian Food Market on Colvin Ave in Albany, but in the last year, the Asian Supermarket -- the newbie Asian market in the Capital Region -- has become a part of my regular rotation.
The Asian Supermarket is similar to the Asian markets you'd see in major metro areas -- bright lights, clean floors, tall shelves, and a ton of selection. It's one-stop shopping for all of your Asian grocery needs.
I find myself there at least once a week. Here are a few of the reasons why...
Hong Kong Bakery
When you first walk into the Asian Supermarket, you'll notice the Hong Kong Bakery to your right. It looks like just another part of the store, but it's really a store within a store. The bakery moved from its previous location farther down Central Ave and is a separate entity from the Asian Supermarket.
I love this place. It's like having a stand-alone food stall in the store. You can pick up a snack or dinner for the whole family. They make fresh baked or steamed buns, crispy-skinned pork, they have an instant hot bar, and their chow fun is delicious. If you see something coming out of the oven while you're there, I suggest you make a detour from your shopping trip.
Fruits and veggies
The Asian Supermarket has a large and impressive produce section. I'd rather shop there for fruits and veggies then at any of the local supermarkets.
There's tremendous variety and many of the vegetables are around $1.49 per pound or less. For under $3 a pound you can kind of change things up every week. They have the largest selection of Asian greens I've ever seen in Albany -- sweet potato greens, a half-dozen different kinds of Asian cabbages (not just Napa and boring ones like that, but also Taiwanese cabbage, delicate mustard greens, and other interesting varieties).
Prices can be a bit higher than the Asian Food Market, but they seem to have a good turnover -- the produce has been reliably fresh whenever I shop there. That's impressive when you're carrying fresh methi leaves ($1.99 per large bunch), chestnuts, pomelo, fragrant pears, lemongrass, and dragon fruit. You'll also find all kinds of incredibly fresh mushrooms.
The Asian Food Market on Colvin has responded to this competition by having weekly/monthly specials (which they almost never had before), but their selection is a bit smaller, and sometimes they're out of certain kinds of veggies.
Butcher/meat counter
You can order up some ground pork, pork belly, seafood or meat balls, and spare ribs from the counter. The refrigerated part of the meat counter houses a few varieties of chicken, duck (with the head on), quail eggs, preserved meats, pork, tendon, and tripe. You can also get whole oxtails -- the entire tail, not sliced into rings; it's like 3 feet of oxtail. They also have pre cut goat-- it's the best steady source that I've seen for goat meat. Also, you can get things like chicken feet, which are a great addition to soups for flavor and body.
There's also a frozen section that's haphazardly arranged that you can rummage through to find beef tongue, quail, duck, chicken, and thinly sliced beef, lamb, or pork for hot pot.
Freezer section
There's a freezer section against the walls on the right side of the store (just past the butcher section) that houses some frozen veggies (edamame, bitter melon, taro, etc.), Filipino sausages, fruit, and instant dishes. They carry my favorite kind of frozen dumplings (the only one's I'll eat over my own), Juan's Frozen Dumplings.
They also have frozen calamansi juice -- a citrus juice that tastes like a blend of orange, lemon, and lime. It's not as tart as lemon and not as cloying and sweet as orange juice. You can also pick up "instant" dim sum like frozen har gow and siu mai.
Seafood
There's a fresh seafood counter that's kept in good condition. You'll find a couple of tanks of fish, crab, lobster, mussels, trout, catfish, frogs and turtles. You can pick something from the counter, or have a fish freshly dispatched for you from what's available swimming in the tanks.
The seafood counter has a number system for how you'd like your fish cut up. This helps any language barriers that may exist. Want your fish just gutted and scaled? Pick a number. Want it filleted with the skin off and no bones? Pick another number.
You can also buy a stack of miscellaneous fish stuff for stock (that's usually pretty cheap). Prices are pretty fair -- you 're not going to pay much more than $5 a pound here, and most of the fresh fish will be more like $2-$3 a pound. Squid, fresh trout and porgies will be in the $2-$3 range, snapper is $5-$6 a pound.
The seafood section has its own freezer where, among other things, you can find 5 pound blocks of frozen shrimp.
Groceries
One of the best aspects of the Asian Supermarket is its variety of Asian goods. You'll find noodles, rices, teas, you name it. It's one stop shopping for Chinese and Japanese groceries. Prices are a little higher than the Asian Food Market for condiments, but it's a convenience thing -- you can get everything you need here.
Try the Kikkoman Pearl green tea soy milk. Even if you don't like soy milk, if you like green tea, you'll like this. It's 2.29 for the box and it's awesome.
You'll also find a wide variety of Thai, Indian, and Korean groceries. They have lots of different bags of Korean chili pepper flakes, seasonings for both Indian and Korean foods, dry powdered spice, snack foods and dried ingredients. There are plenty of Thai sauces and condiments, as well.
Their product organization could use a little help, though. This is one of the most confusing aspects of the store. The aisles are grouped partially by product type, and partially by ethnicity, meaning one aisle has some Korean goods, and another aisle has Indian groceries. It gets confusing if you're looking for a seasoning, which could theoretically be just about anywhere. If you're trying to find powdered pure matcha, you'd think it would be in the tea section, but it's in the baking area, near instant beverages and baking goods. Ironically, sweetened matcha powder to make instant tea with is in both the tea aisle and the instant drink section.
Explore
If it's your first time visiting the store, give yourself a little extra time to shop. You'll probably want to browse and gawk at all of the different herbs, snacks, and produce available. Plus, that whole product organization thing is going to boggle you a bit at first.
On the whole, I think the Asian Supermarket is a reliable place to shop if you need to make a variety of different kinds of Asian food. Their selection is so vast, if there's something you're looking for, they'll probably have it. And if not, they'll try to find it for you. The staff at the Asian Supermarket is helpful and positive.
The checkout systems are automated and just like you'd see in a traditional supermarket, except with a computerized voice that says "Slide your card, please" when paying with a credit card.
I still have a place in my heart for the Asian Food Market, as well. There are a few things I can only find there -- like black rice noodles that are totally black. My dad can't even find them in New York City. Also, their 5 percent student discount is an incentive, and they have a purchasing program where you can buy a card for $300 that gives you about $330-worth of product.
But for sheer variety, the Asian Supermarket can't be beat.
Albany Jane writes about her food adventures at Albany Eats.
Find It
Asian Supermarket
1245 Central Avenue
Albany, NY 12205
Hi there. Comments have been closed for this item. Still have something to say? Contact us.