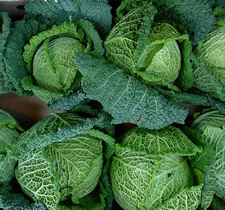 As the debate over whether onions or corn should become the official state vegetable plows ahead, the New York Farm Bureau interjects with this important fact: the state's biggest vegetable crop is actually... cabbage, at $110 million per year.
The Empire State's annual cabbage harvest ranks second in the nation, according to the Farm Bureau. The primary cabbage producing counties are in western New York.
The state's number one crop? Apples, at $185 million per year.
By the way: While we're on the topic of an official state vegetable, why can't we pick something cool like Romanesco broccoli (you know the fractal one). Or, give a nod to the growing small organic farm movement here with something like heirloom radishes or pea shoots. Even cabbage shows a certain desire to be different. Anything but corn.
[via @nickconfessore]
photo: Flickr user Nick Saltmarsh
Hi there. Comments have been closed for this item. Still have something to say? Contact us.