By Leigh Cummings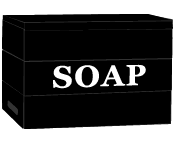 It's a gorgeous, sunny day and you're out for a stroll in your neighborhood. Half-eaten apple in hand, you pop into the post office to mail a letter and then head to the butcher for a pound of sausage and a ball of fresh mozzarella. On your way home, you stop at the food cart to chat with the owner and grab a bag of soft pretzels.
Now imagine all of this happening on Lark Street. Impossible, you say? Maybe today. But how great would that be?
For all its compact diversity, Lark is sadly lacking some amenities that would be considered basic elsewhere. A U.S. Post Office is the first thing that comes to mind. If you aren't aware of the tiny branch just inside the Capitol building's Washington Avenue entrance, convenient offices are hard to find. A quick Google mapping shows that there are no other branches for a mile in all directions. It's a walkable distance, for sure, but who wants to make that trek for one stamp?
And though there's no shortage of excellent prepared eats on Lark, there is a noticeable absence of raw ingredients. As an alternative to the sometimes unreliable produce options at the supermarket it would be nice to have a real green grocer selling local, in-season fruits and vegetables during the months they're available. You know what I mean: a little market owned by a mustachioed older chap in an apron who remembers that Brussels sprouts are your favorite, and always lets you squeeze the peaches. I love that guy. Well, I love the idea of that guy.
Right next door to my imaginary green grocer is a bagel shop. This is very serious business, here. It's almost a crime that there aren't better bagels on Lark. Yes, there's Dunkin Donuts, and the Daily Grind comes even closer to authenticity with their offerings, but both sell what are basically just rolls with holes in the center, not real bagels. A real bagel is crispy on the outside, warm and soft on the inside, and hardly needs toasting. And now my mouth is watering.
While we're fantasizing, how about a handful of actual offices? Retail shops employ people, but if there were more folks working in the same neighborhood where they live there would be additional demand for things like food carts, those peripatetic gourmets that never seem to venture west of Swan Street. Combining quick service with low prices and the charm of eating your meal off of a stick, I think food carts would go over like gangbusters during the summer months.
Over the past few years, it has seemed that Lark Street is going in the right direction with an infusion of new, unique businesses like Pastime Legends, Lil Buddha, Seasons and Crisan. They've all succeeded at the delicate balancing act of appealing to both townies and visitors in an area where the locals are fiercely dedicated to guarding its character. They've brought a different vibe to the street, and are a welcome disruption to the status quo. Let's face it, the last thing we need is another bar or head shop. Those markets are saturated, as far as I'm concerned.
This is a street that should never have a shuttered store front and yet so many remain vacant, like the buildings that formerly housed the Corner Food Court and Planned Parenthood. I would be so happy to see those spaces brought back to life. I'd also advocate for the entire neighborhood going carless, but that is another fantasy for another day.
What's on your fantasy Lark Street?
Leigh Cummings blogs about her misadventures on public transportation (among other things). You can also find her on The Twitters: @leighcummings.
Hi there. Comments have been closed for this item. Still have something to say? Contact us.