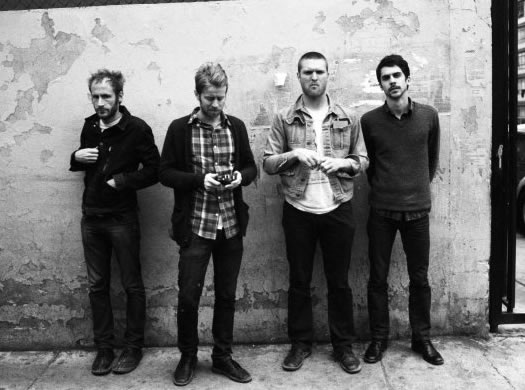 The music lineup for this year's Tulip Fesitval includes...

... and a handful of others. The full schedule is pasted after the jump.
Also this year: new rules for alcohol. No alcoholic beverages will be allowed to be brought in (under threat of bag and cooler inspections) and there will be no open containers allowed. (There will be a beer garden.) [TU]
The Tulip Festival is May 7 and 8.
Copied and pasted from the press release...
Tulip Festival Performance Schedule:
SATURDAY, MAY 7
Saturday Main Stage
Washington Park Parade Grounds
Sponsored by 102.7 WEQX
Dan Mangan • 1:00pm - 2:00pm
A talented, hard-working and unpretentious musician with a poet's gift for seeing through absurdity, Vancouver's Dan Mangan is heralded as a favorite among North America's new breed of independent artists.
Sam Roberts Band • 2:30pm - 3:30pm
Racking up platinum records, #1 chart rankings and multiple awards in their native Canada, the Sam Roberts Band occupies the space where classic pop songcraft and disorienting sonic experimentation collide.
Cold War Kids • 4:00pm - 5:30pm
Cold War Kids means International Blues. Since forming in 2004 in a tiny apartment over a Fullerton restaurant, the California quartet has stirred up plenty of buzz with their infectious, soulful tunes, non-stop touring and impassioned live show. Cold War Kids' new album, Mine is Yours, broke the Billboard Top 40 and launched the hit single "Louder Than Ever" - rather impressive accomplishments for an independent band that was booking their own tours through America's claustrophobic clubs just a few short years ago.
Saturday Amp Stage
Washington Park Lakehouse Amphitheater
Sponsored by 102.3 KISS-FM
They Might Be Gypsies • 1:00pm - 1:45pm
A gypsy jazz duo comprised of Greg Ryan and his 15-year-old guitar phenom son Aidan, They Might Be Gypsies play high energy, uplifting music with tremendous passion.
Teagan & the Tweeds • 2:15pm - 3:00pm
Led by the soulful vocals of singer-songwriter Teagan Ward, this six-piece Rochester ensemble includes a Hammond organ and pedal steel guitar. The Tweeds rock a blues-country-folk vibe that fills a dance floor like nobody's business.
Matthew Carefully • 3:30pm - 4:15pm
Upstate New York musician Matthew Carefully crafts songs from bits of sampled mandolin, electronic beats, field recordings and voice. His unique sense of order, melody and musical spirit delivers a constantly evolving live performance which is guaranteed to make you laugh, cry, think and wonder - how is he making that sound?
Patti Rothberg & Wet Paint • 4:45pm - 5:30pm
Discovered by a record executive performing in a subway station, Patti Rothberg became something of an overnight sensation upon the release of her 1996 debut album, earning spots on the Billboard charts, the Tonight Show and tours supporting the Wallflowers and the Black Crowes. 15 years later, Patti's emotive voice, brilliant songwriting and awesome guitar solos are still on display on her new album, fittingly titled Overnight Sensation. Patti's band, Wet Paint, features Mark Greenberg and David Leatherwood.

SUNDAY, MAY 8
Sunday Main Stage
Washington Park Parade Grounds
Sponsored by Columbia Development & PYX 106
Zumba! with Instructor Carla Schlist • 11:00am - 12:00pm
Zumba is an exhilarating, Latin-inspired and calorie-burning dance fitness workout. Millions of people worldwide are enjoying this joyful phenomenon to party themselves into better shape and overall health Join in the fun with this free introductory class conducted by fulltime licensed Zumba fitness instructor Carla Schlist.
Blotto • 1:30pm - 3:00pm
Legendary live performers, clever musical satirists and music video pioneers, Albany's Blotto made quite a splash when the video for their now-classic ode to summer "I Wanna Be a Lifeguard" aired nationally on MTV's first day of operation. The band members went their separate ways in 1984, but Blotto never really broke up. Don't miss this rare performance from the Capital Region favorites.
Marrakesh Express- A Crosby, Stills, Nash & Young Experience • 3:30pm-5:00pm
Crosby, Stills, Nash & Young remain one of the most vital and enduring musical groups of all time. Marrakesh Express excels at reproducing CSNY's complex songs and cascading, 3- and 4-part harmonies, transporting the audience back to the late 1960s. A unique and energetic live presence, Marrakesh Express has brought the sound of the '60s to tens of thousands of appreciative fans.

Sunday Amp Stage
Washington Park Lakehouse Amphitheater
Sponsored by 97.7 WEXT
13th Annual Mother of the Year Award • 12:00pm - 12:45pm
Presented by St. Peter's Women's & Children's Services, Times Union & B95.5 FM.
The Capital Region's most outstanding moms are recognized as Mayor Jennings and Joe Condon of B95.5 crown the 13th Annual Mother of the Year.
Bryan Thomas • 1:00pm - 1:45pm
Bryan Thomas is a soul rocker from New York's capital city. Nippertown's Greg Haymes says it best: "Thomas' uncompromising songs are specifically local, yet gloriously global. He writes smart, and he writes from the heart, balancing intellect, passion and politics."
The Rodeo Barons • 2:15pm - 3:00pm
A fixture of the local music scene behind the drumkit with Saratoga Springs favorites Railbird, Chris Carey picked up a guitar and stepped out on his own with his first solo album, Sunset Moon, in 2010. Carey's band The Rodeo Barons conjure up a sound that hearkens back to the classic country-rock of Neil Young and Bob Dylan.
Black Mountain Symphony • 3:30pm - 4:15pm
Driven by powerful vocals and captivating violin lines, Black Mountain Symphony carve out their own unique sound, shaped by years of classical training, an irresistible love for musical roots and a fresh, ultramodern mentality.
Sgt. Dunbar & The Hobo Banned • 4:45pm - 5:30pm
Albany's 8-piece indie-folk collective Sgt. Dunbar & The Hobo Banned have been championed by NPR and showcased at the South by Southwest music festival. The band's uninhibited performances feature an overcrowded stage populated by frenetic multi-instrumentalists, willing to utilize anything from accordions to handsaws in the service of frontman Alex Muro's offbeat songs.
Hi there. Comments have been closed for this item. Still have something to say? Contact us.