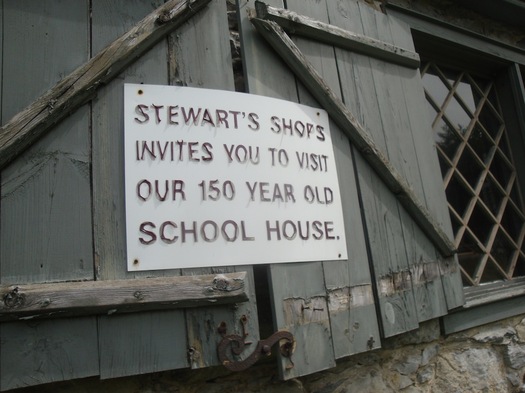 By Akum Norder
Incongruity pleases me. So when I saw an old stone building cheek-by-jowl with a Stewart's shop in Hoosick, where Route 7 meets Route 22, I had to pull in and have a look.
Even before you notice the date of 1842 carved above the doorway, it's clear the place is very old. It's built of weathered stone, with a heavy lintel and a sloping roof. Along the Route 22 side of the building is a peeling sign: "Stewarts Shops invites you to visit our 150 year old school house." Curiouser and curiouser.
So I walk into the Stewart's. "What's up with that schoolhouse? Do you own it?"
"It's on our property," says the cashier. "I don't know much about it, but I can let you in if you want."
She gets the key, goes out to unlock the place for me, and leaves again.
And from one side of the parking lot to the other, I've stepped out of Stewart's and into the past.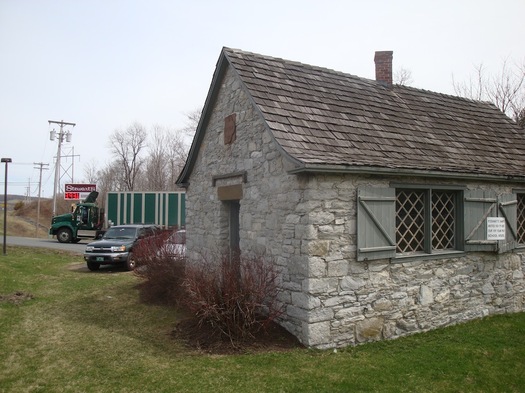 The one-room school, reportedly, came into existence through the efforts of a Mrs. Tibbits, wife of a prominent Hoosick landowner, who wanted the children of their tenant farmers to have a school. She hired an Irish stonemason to build it "at the crossroads near what was the center point of all the working farms," according to signs in the schoolhouse. Eventually, it became a public school, and classes were taught there until 1917.
Today, it's a bit neglected. There are some student desks, a lectern, a coal stove, a slate board, a map. But I'm easy to please. I've always liked the austerity of old schoolrooms, and the wood seemed to glow in the crisp light shining through the diamond-pane windows.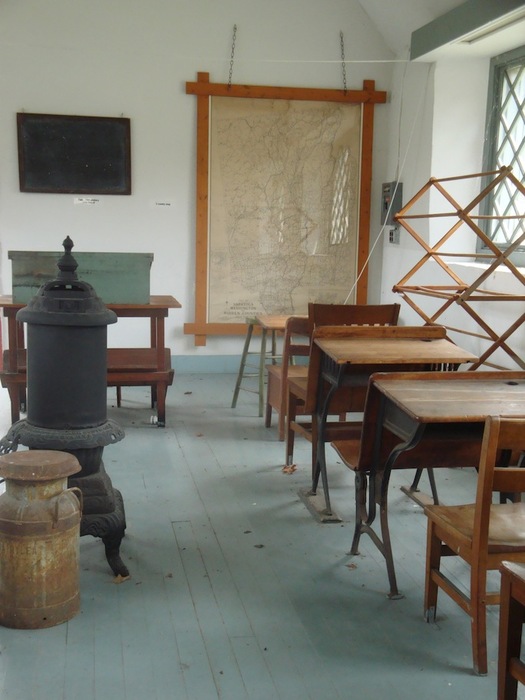 I'll stop here with my kids the next time we're driving up to Vermont, to let them spend a few minutes stretching their legs and their imaginations: What would it be like to attend a school like this -- you and your friends and your little sister and your teenage neighbors, all in the same room, with one teacher to manage and guide all of you? Would you find yourself wishing you could nudge your desk closer to the coal stove in the center of the room? Would you give in to the temptation to dip a pigtail or two in the inkwell?
On the counter was a stained notebook used as a visitor's register; I flipped it open to a random page to find a woman writing about her grandmother. I skimmed the page, expecting to read: "My grandmother attended school here." But that's not what it said. Her grandmother didn't attend school here. Her grandmother told fortunes here. Huh?
According to the town of Hoosick's history website, "bands of gypsies were given permission to camp there," and used the site for decades. And, yes, some of them told fortunes.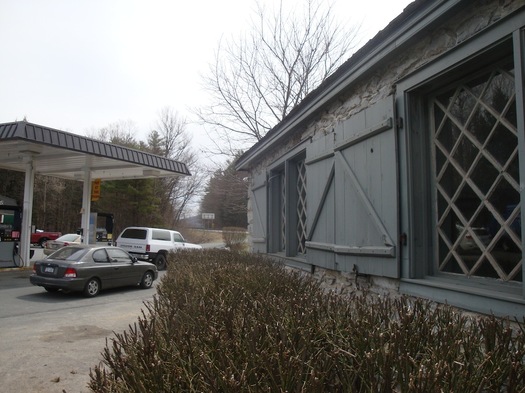 Stewart's owns it now. When the schoolhouse was threatened by the construction of the Stewart's shop, "Stewart's President William Dake personally interceded and worked with the local historical society in Hoosick to save and restore the old building," according to the Times Union, which hailed it as a preservation initiative that "deserve[s] celebration."
In 2006, Stewart's offered the schoolhouse to the town for use as a tourist information center.
Apparently, that didn't work out. And yet, there's something hopeful about it being here: You can't renovate what's been lost. Here's a landmark that's still hanging on, sandwiched between the gas pumps and the roar of traffic, waiting for the next chapter.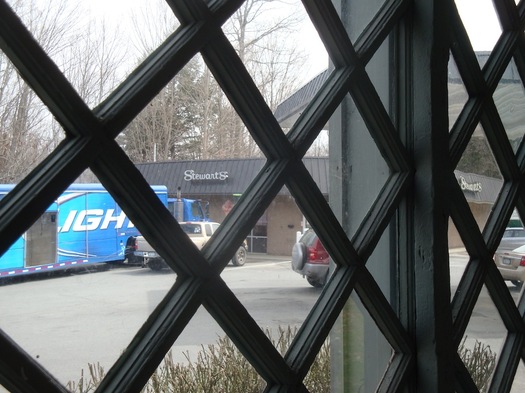 Find It
Hoosick one-room schoolhouse
Routes 22 and 7
Hoosick, NY 12090
Say Something!
We'd really like you to take part in the conversation here at All Over Albany. But we do have a few rules here. Don't worry, they're easy. The first: be kind. The second: treat everyone else with the same respect you'd like to see in return. Cool? Great, post away. Comments are moderated so it might take a little while for your comment to show up. Thanks for being patient.