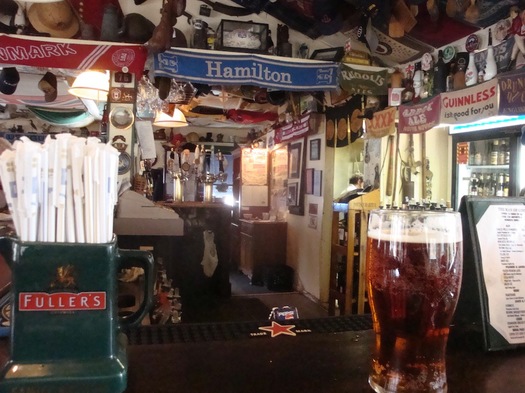 By Akum Norder
Man of Kent is the best secret pub that everyone's heard of.
With a comfortable atmosphere, great beer and convivial staff, it's the sort of place you wish was in your neighborhood. But probably it's not. It's on a wooded stretch of Route 7, just minutes from the Vermont border. The words "middle of nowhere" come to mind.
If Man of Kent is your local? You have my envy.
It's one of the Capital Region's best pubs. And we drove out there recently to remind ourselves just why.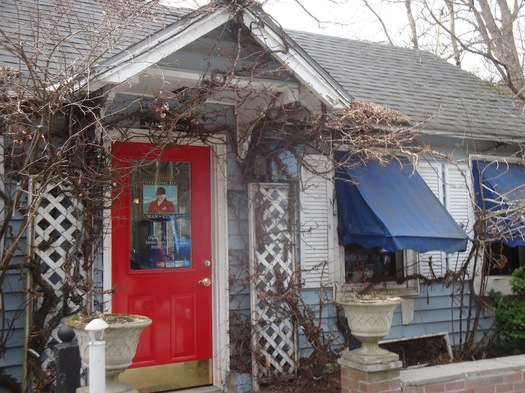 The small English pub sits practically on top of Shingle Hollow Creek, with quite a nice view of the woods and the tumbling water. But there's plenty to look at indoors, too: Friendly clutter lines the ceiling and walls. There are jerseys, caps and other sports mementos -- golf, soccer and American football, mostly. And more: a wooden spoon collection. A bobby's helmet. And is that a jai alai cesta?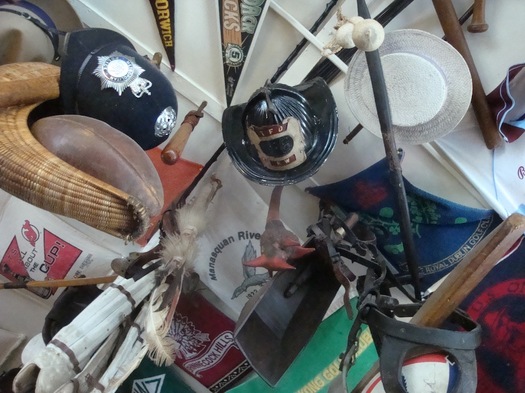 They have 14 beers on tap; not surprisingly, English ales predominate. On the menu are a variety of sandwiches named for English counties. My sandwich, though, was named for its ingredients (unless there's a Feta-and-Portobello County I somehow missed learning about). I wasn't expecting all that much from my sandwich -- after all, I don't go to pubs to eat -- which made it all the nicer to find that it was completely delicious, perfectly grilled, with a balanced pesto and lots of tomatoes. Grand.
The man behind the bar, John Stoate, is the original "man of Kent" -- yes, he's from Kent -- though he's quick to point out it's not his pub anymore. He sold the place three years ago, after decades with hardly a day off. But here he is, working for the new owner, tending bar with infectious cheerfulness.
As he brought us our sandwiches I asked him what I most wanted to know: Why did you put this pub here?
There's a story behind it, of course.
John started Man of Kent in 1984. He'd been living downstate -- his wife worked on Wall Street -- but "after 6 months in New York City, I realized I had to work for myself." He and his wife loved New England but found the real estate too pricey.
This site near Vermont seemed like an ideal compromise.
Okay, but why not in a village center?
Because out here in the countryside, he said, "I realized I could make it what I wanted."
"If you're near G.E. you have to cater to G.E. workers," John explained. "If you live in a village you have to cater to the village people. People only come here who want to come here."
And come they do. The place was nearly full on a Tuesday afternoon, and nearly everyone who came in nods to John or shakes his hand.
When Matt Baumgartner and his partners were talking about their vision for The Olde English -- a pub scheduled to open later this spring in Albany's Quackenbush House -- Man of Kent was invoked as having the kind of atmosphere they'd like to create.
"Imagine if you had a pub like that, but it was actually close to where a lot of people live." said Mark Graydon, general manager of Wolff's Biergarten and one of the principals at The Olde English.
Actually, having it any closer could be dangerous to my waistline. It was very seductive to ease into my corner of the bar and imagine spending the rest of the afternoon there.
"Need another beer, darling?" John asks.
It sounds even more tempting in a British accent. But sadly, no. It's onwards into our day.
Don't wait till your next trip to Vermont. Man of Kent is a destination in itself.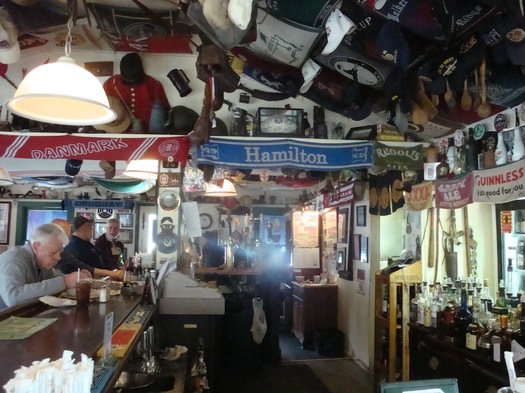 Find It
Man of Kent Tavern
4452 State Route 7
Hoosick Falls, NY 12090
Hi there. Comments have been closed for this item. Still have something to say? Contact us.