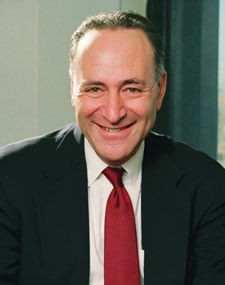 The Brennan Center recently released a "report card on New York's civil literacy." Newsflash: it's low, in most of the way's you'd expect (nope, the President can't declare war; the founders weren't trying to found a Christian nation; the Constitution's goal wasn't to increase the power of the 13 original states).
But this bit made us take notice/wonder/laugh wryly: 58 percent of New Yorkers in the survey failed to name at least one of the two current New York members of the US Senate. As the report notes (emphasis added):
Respondents were not given any list to choose from, so they had no opportunity to guess or "refresh their recollection." Kirsten Gillibrand, New York's junior Senator, was appointed less than two years ago, after then-Senator Hillary Clinton was appointed Secretary of State. Senator Gillibrand had never previously run for statewide office, and the fact that her name wasn't widely known is not surprising. Chuck Schumer, though, has represented New York State since 1999 and is a major national player on the political stage. It is significant that so few New Yorkers were able to provide his name when asked, especially when we consider that both senators' names were on the ballot in the November 2010 elections and both were campaigning during the time the poll was conducted.
That's right, Chuck Schumer, who hasn't passed up an opportunity for a press conference -- ever* -- still not at the top of a majority of New Yorkers' minds.
It's worth noting that Schumer did get 65.5 percent of the vote in last year's election, so he's doing OK -- whether people remember his name or not.
The full Brennan Center report is embedded after the jump.
* Unconfirmed, but probably true.
photo: schumer.senate.gov
Hi there. Comments have been closed for this item. Still have something to say? Contact us.