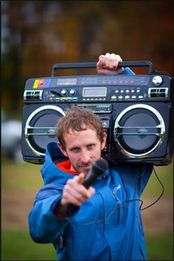 My Exit is back. Every Monday night local listeners get to come into the station and program an hour of music. We thought it'd be fun to find out a little bit about these people and why they picked the songs on their play list.
Here's tonight's person:
Who?
John Hughson. I'm a metallurgist that has lived in Schenectady for about 3 years. Â When I'm not looking at stuff under a microscope, I'm usually racing mountain bikes, backcountry skiing, or playing ultimate Frisbee.
How would you describe your musical taste?
When I was 8 years old, I remember my dad bringing home De La Soul's 3 Feet High and Rising and thinking "wow, this stuff is real fresh."  From there, it was a downward spiral into rap tapes my parents would buy me from the little gas station in Onekama, Michigan. Since then, I've always loved a song with a good bass line and a dope break and had the Upper Peninsula's best hip hop radio show as a DJ on WMTU.  My musical taste is more diverse now, but please don't ever play any Dave Matthews around me... ever.
A sample of John's My Exit show:
Shawn Lee & Clutchy Hopkins - Leon Me: The great thing about Clutchy Hopkins is that his true identity continues to be a riddle wrapped in an enigma. Â The mystery man (I think it's Money Mark) has teamed up with Shawn Lee to create 2 albums of mind-blowing funk and "Leon Me" is a great example.
The Slew - The Grinder:  Kid Koala worked with Dynomite D and the bass player/drummer from Wolfmother to create a soundtrack for a movie that was never released, but at least the music was able to see the light of day.  Every track on 100% is fresh and fun, but "The Grinder" is a highlight of their electric mud sound.
Blockhead - Pity Party:  Blockhead has been consistently producing classic hip hop since early Aesop Rock albums back in 1999, but his solo instrumental hip hop work is just as amazing.  Pity Party is a stand-out track from 2009's The Music Scene and is totally rad...the build up to the muted trumpet solo gets me every time.
Cut Chemist - The Garden:  Cut Chemist used to be a DJ/Producer for Jurassic 5, but left before Feedback was released (probably because the other dudes wanted to work with Dave Matthews).  Between sets with DJ Shadow, solo mixes, and production, this man is always bringing the funk.  "The Garden" is an absolutely EPIC track off The Audiences' Listening and is sure to please.
You can hear John's My Exit show tonight at 8 on 97.7 or at exit977.org.
Hi there. Comments have been closed for this item. Still have something to say? Contact us.