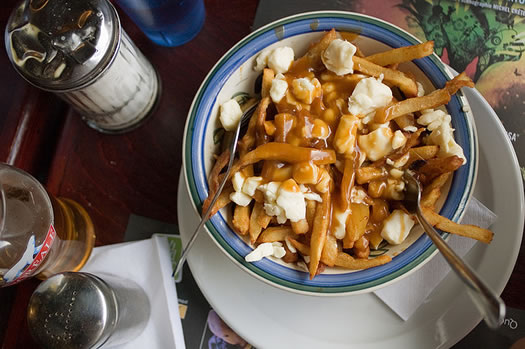 Amanda and Danielle asked via the Twitter recently:
[D]o you know anywhere around here that has poutine?
We've spotted what's touted as poutine a few times in the Capital Region -- but it usually just ends up being fries with gravy and cheese (not a bad thing, just not poutine exactly). We've yet to come across poutine in its full cheese-curdy, Quebecois glory.
So, anyone know where Amanda and Danielle can score poutine around here? Please share!
Bonus bit: there's a Montreal website kind of like AOA called Midnight Poutine, which gives you a sense of when the poutine craving often hits. Also, the famed Montreal restaurant Au Pied de Cochon has poutine made with foie gras.
photo: Flickr user Pierre LaScott
Hi there. Comments have been closed for this item. Still have something to say? Contact us.