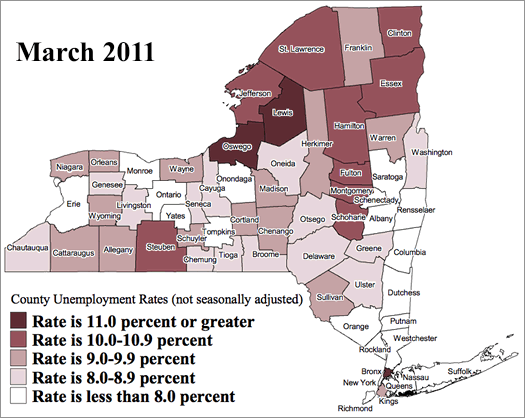 The Capital Region's unemployment rate was 7.2 percent last month, according to numbers out today from the state Department of Labor. That's down from 7.7 percent a year ago and 7.8 percent last month.
New York State's unemployment rate was 8 percent last month. That's down from 9.1 percent a year ago, and 8.7 last month. The national rate was 9.2 percent, down from 10.2 percent a year ago, and 9.5 percent last month.
Compared to the rest of the state, the Capital Region is doing relatively well. The Capital Region's rate was lower than all over metro areas in the state aside from Ithaca (5.4 percent) and the suburban counties around NYC (6.9 percent).
Zooming in a little more, individual Capital Region counties are doing even better compared to the rest of the state. Albany County's 6.8 percent rate was tied for sixth lowest in the state (with New York county). And Saratoga was right behind it at 6.9 percent. In fact, all four core counties of the Capital Region rank in the top 20 for lowest rates statewide. (The metro area's rate would be lower if not for Schoharie County, which the DOL includes in this metro, at 10.6).
There are still about 30,000 people in the Capital Region who are unemployed.
Numbers not seasonally adjusted, so the best comparison is to the same month a year ago.
Hi there. Comments have been closed for this item. Still have something to say? Contact us.