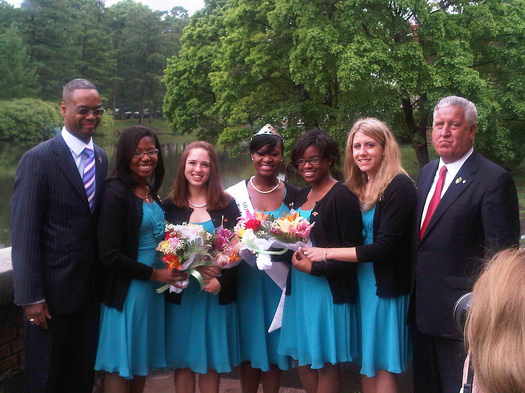 Out of about 70 nominations for 2011's Tulip Queen, the field is down to five.
The city announced the Tulip Queen finalists earlier today. According to the blurbage, "These young women were chosen based on their community service and leadership skills as well as their knowledge of Albany."
(We admit we're curious about that "knowledge of Albany" part. Was there a history quiz? A naming of all the major east-west streets, running south to north, in order? A spelling bee?)
One of these young ladies will be crowned queen at Tulip Fest May 7 in Washington Park.
The queen and her court work on education and literacy initiatives during their year-long reign.
Names and bios after the jump.
The 2011 Tulip Queen finalists:
Marjorie Adriance, age 18, Knox
Marjorie studies early childhood education at Hudson Valley Community College. She has volunteered her time at Camp Lovejoy, vacation Bible school, an elementary school classroom and Berne-Knox-Westerlo Central School, where she was a cheerleading coach and member of the spring musical stage crew. Marjorie has also participated in Relay for Life and the Making Strides Against Breast Cancer walk. She hopes to one day be an elementary school teacher.
Karen Colehour, age 23, Colonie
Karen received her bachelor's degree at Elmira College and is working toward her master's in speech-language pathology at the College of Saint Rose. She has worked as a volunteer coach for the Troy-Albany Ice Cats hockey team and as an events coordinator for Breast Cancer Awareness. While at Elmira College, Karen completed over 100 hours of community service in Elmira schools, YMCAs, food banks and animal shelters. In the future, she would like to become a licensed speech-language pathologist in Capital District schools.
Katie Headd, age 22, Albany
Katie is a senior at the College of Saint Rose and will be continuing her education at SUNY Albany for her master's degree in social work. She has been a resident assistant, a mentor for Big Brothers Big Sisters, a committee member for Reach Out Saint Rose and a volunteer for New Orleans service trips. Eventually, Katie would like to work as a social worker with inner city youth in preventative programs.
Kelly Landers, age 19, Latham
Kelly is a childhood education major at the College of Saint Rose. She currently works as a lifeguard and swim instructor at YMCA's Camp Nassau and the Rudy A. Ciccotti Center. Kelly has traveled to Washington, D.C., to aid the homeless and New Orleans to rebuild homes. She has been a mentor by teaching yoga and science to children with autism at Friday Knights and assisting immigrant refugee students with their homework at Emmaus United Methodist Church. Kelly would love to become a teacher and reading specialist.
Hannah Walker, age 21, Colonie
Hannah is a senior at Sage College of Albany studying fine arts illustration with a business minor. She is a support services assistant at the NYS Public Service Commission. Hannah has volunteered her time at Grand Central Community Arts, Ten Broeck Mansion, Capital District Rescue Mission and the Photo Center of the Capital District. Her career goal is to serve and work with children within the non-profit sector.
Earlier on AOA: an interview with 2009's Tulip Queen Juliana Hernandez
Image via the Albany Tulip Queen website
Hi there. Comments have been closed for this item. Still have something to say? Contact us.