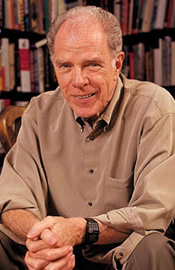 It's called Chango's Beads and Two-tone Shoes and it will go on sale at the end of September.
From the "PrePub Alert" on Library Journal:
Here's an unbeatable setup. Pulitzer Prize winner and MacArthur Fellow Kennedy, who gave us Ironweed and the rest of the great "Albany Cycle," puts journalist Daniel Quinn (not of his Quinn's Book) in the Floridita bar in 1957 Havana, where he meets Ernest Hemingway. It's the start of something good: a novel that runs riot from Cuba (with Castro on the rise) through good reporters, bad politicians, and drug-running gangsters, to race riots in Albany as Robert Kennedy's assassination looms. Even Bing Crosby makes an appearance. Kennedy's first in a decade should be pretty amazing; with a six-city tour.
Kennedy's last novel was Roscoe, published in 2002.
Of course, you know all about William Kennedy and his books involving Albany. Did you know the NYS Writers Institute was founded with money from Kennedy's McArthur Foundation "genius" grant?
Capital Region literary notables for $1000, Alex: A: This acclaimed author and Saratoga Springs resident will also be releasing a new novel, The Memory of Skin, at the end of September. Q: Russell Banks.
[via @bookhousealbany]
photo via NYS Writers Institute
Hi there. Comments have been closed for this item. Still have something to say? Contact us.