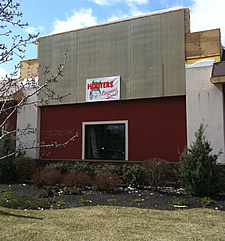 Update: It opened June 17. [Fox23]
____
Everyone who pined for Chipotle, and longs for Trader Joe's and Whole Foods and Ikea* -- the gods of chain stores and restaurants are laughing at you. Hooters is coming back to the Capital Region.
We had gotten a tip about this recently, so we emailed the company earlier this week. A spokesman confirmed the rumors -- a new Hooters is set to open at 70 Wolf Road, maybe sometime in June. The site was, most recently, a Fuddruckers. When we drove by today, a crew was working on renovations.
The Capital Region's last Hooters was at Crossgates -- it closed in 2007. [Biz Review]
*Yep, we'd count ourselves among that number.
(Thanks, D)
Update: No sooner do we hit publish and skim our Twitter feed, do we see that Chris is on top of this -- he rightly notes that the new Hooters will be across from the "Hooters of haircutting."
Hi there. Comments have been closed for this item. Still have something to say? Contact us.