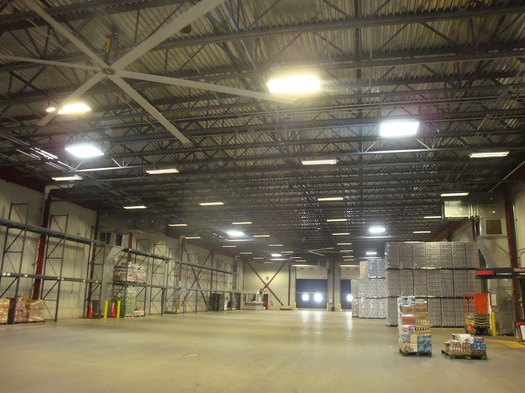 By Akum Norder
"Everyone's talking about going green," says Russ Teplitzky, general manager of DeCrescente Distributing Company. "You can either talk about it or you can do something about it."
DeCrescente, in Mechanicville, chose the "do something" route -- to the tune of a half-million dollars' worth of energy improvements. The resulting efficiency boost is the equivalent of taking more than 1,200 cars off the road. And the project was underscored by their belief that doing the right thing can also make good business sense.
Beverage distributor DeCrescente is a homegrown Capital Region company that started in 1948 with one truck. Today, they're a fourth-generation family business that moves 9 million cases of beer and other drinks annually to supermarkets, bars, restaurants and convenience stores across the 11-county greater Capital Region. Chances are, before that Corona, Ommegang, Saranac or other brew you wish was in your hand right now reached your favorite watering hole, it came through here.
For their recent energy remodel, a year in the making, DeCrescente installed solar panels. They switched to energy-efficient lighting and cut skylights to take advantage of natural light.
But that's just the start.
Walk into a warehouse quadrant and the lights go on at your approach. Every room in the offices and warehouses is on a sensor: When a space is not in use, its lights shut off.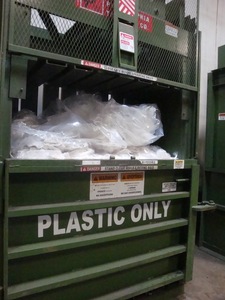 The heating system, too, has energy-efficient controls. You know those offices where you're broiling at your desk but have to wear a sweater in the conference room? Not gonna happen here. They can monitor and regulate temperature room by room, so one office doesn't have to be overheated just so the room next door stays above freezing.
In the loading bay, high-speed doors help minimize heat loss. And when the doors have to be open for any length of time, the furnace pauses till the doors are closed again. High-volume, low-speed fans in the warehouses help distribute the heat, too.
DeCrescente recycles all plastic and cardboard, and pallets get sent back for reuse; broken ones are chipped for mulch.
And DeCrescente isn't done. Some ideas being considered for the future include investing in hybrid vehicles for the sales staff and even for trucks, and making use of outdoor air in winter to chill their keg room.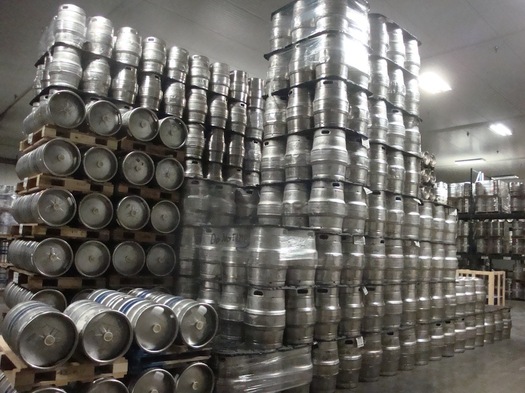 Can Mother Nature can help keep these babies cold?
Implementing these changes was no small task: This is a sprawling multi-building facility that employs more than 300 people. Why take on a project like this?
Saving money was one reason. "The price of energy just keeps escalating," Russ says. Improving energy efficiency would lower their costs. And, Russ says, there was also a sense of corporate responsibility. "It's the right thing to do."
With the energy savings, Russ says, the project will pay for itself in seven years.
To a 63-year-old company, seven years is not that long: "We're not going anywhere. We're fourth generation, with the 5th coming on [a baby born about six weeks ago], so it makes sense" to invest in green technology.
Workplace award
DeCrescente sees taking care of its workers as part of the big picture, too -- part of the reason the distributor was recently named one of the 50 best companies to work for in New York state. Only three Capital Region businesses were given that distinction, which was awarded on the basis of anonymous employee surveys.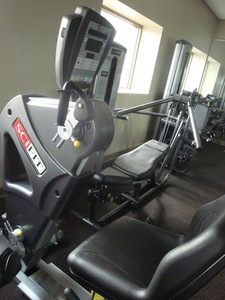 Sure, salary and benefits are part of it -- they haven't raised healthcare costs in 8 years -- but DeCrescente also offers more. There's a free fitness center for employees (and it will triple in size during the next expansion project). They employ a full-time nurse practitioner to address the health concerns of employees and their spouses. They do company-wide health initiatives like "The Biggest Loser" and a step challenge -- people were wearing their step counters when I visited -- and the Tour de Cure. There are Christmas parties and holiday turkeys.
"We try to do a lot of activities to keep people involved," Russ says.
One interesting benefit: DeCrescente offers employees a free taxi pickup program. If an employee out on the town anywhere, any time, finds he's not in shape to drive home, the company provides for taxi service, plus a return trip to fetch the car the next day.
As with their energy-saving measures, they see taking care of employees as something that just makes sense. That's what they ask themselves, Russ says: "How do we continue to invest back in our infrastructure and our people?"
It's an investment with great returns.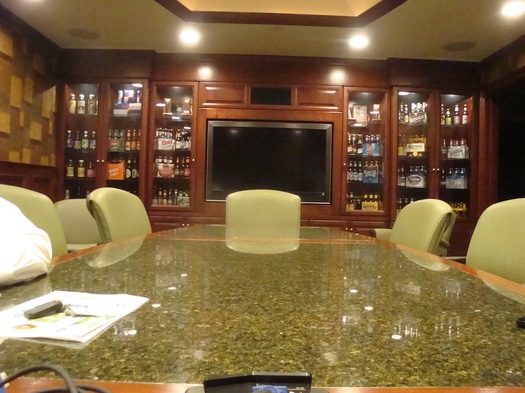 A boardroom with a view.
Find It
DeCrescente Distributing Co.
211 N. Main St.
Mechanicville, NY 12118
Hi there. Comments have been closed for this item. Still have something to say? Contact us.