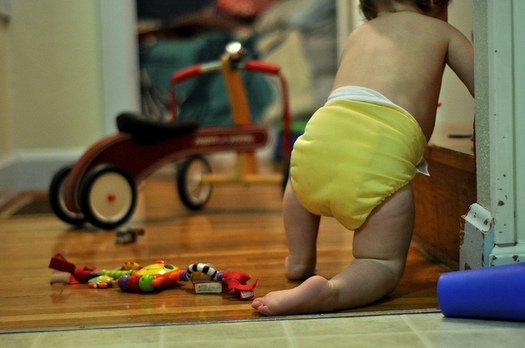 By Akum Norder
Cloth or paper? Which one would you prefer cradling your butt?
On second thought, don't answer that. I'll just jump right in to talking about diapers.
With my first baby, I chose cloth. It was soft. I liked that it "breathed" better than disposables. And I liked the fact that we weren't sending extra crap (ahem) to the landfill. But washing diapers at home was not an option: We were renting; the landlord had shut off the hot-water line to the washing machine, and you can't wash diapers in cold.
So we contracted with a diaper service. Easy: They provided the diapers. We just tossed the used ones into a bin, set them out once a week, and fresh clean diapers would magically appear the next morning.
But by the time our second daughter came around, the diaper service we'd used had gone out of business. We went with disposables. Yeah, she got diaper rash more often. Yeah, we threw out a lot of trash. But whether we deserved the eco-guilt we felt isn't completely clear: When you take the laundering into account, reusables aren't exactly guilt-free, either. Studies comparing the environmental impact of cloth and disposables have shown mixed results, and even the Natural Resources Defense Council has reported that "environmentalists from various organizations declared a draw, suggesting we all move on to issues where the costs and benefits were more clear-cut."
Me, my heart's still with cloth; but whatever your feelings, it's nice that parents have options. There are now several diapering businesses in the Capital Region, and they make it as easy as could be to go cloth with your baby.
Read on to learn more about three of the area's cloth diaper services.
Sonrise Diaper Service
Based in Latham, with a retail diaper store in Guilderland
Communities served: All of Albany, Schenectady and Rensselaer counties; northern Columbia and Greene counties; and southern Saratoga and Washington counties.
Price for 100 diapers per week: $25
Sonrise opened in 2009. The owner, Vikki Casey-Ahmed, had wished the Capital Region had a diaper service when her twins were small. "After I had our third baby," she said, "I thought, 'This has to happen'" -- so she started a service herself. "I love meeting and talking to new moms and moms-to-be. ... Truly, I have had a wonderful experience."
"Cloth-diapering your child is really nostalgic for many moms and grandmoms," Vikki said. "It brings back memories of childhood, theirs and their children's."
In addition to providing the diapers, the laundering service and the accessories you need to get started, Sonrise offers an in-home consultation to answer questions and demonstrate techniques. "I feel like people want a person to talk to, someone having experience with cloth diapering, to help them sort out all the information -- because there is a lot -- provided to them online," Vikki said.

Green Horizon Diaper Service
Based in East Greenbush
Communities served: Albany, Rensselaer, Schenectady and Saratoga counties. They will go beyond those areas for an additional charge. Contact for details.
Price for 100 diapers per week: $25
As with Sonrise's Vikki, it was Ashlee Phelan's experiences with her own baby that prompted her to start a diaper service.
"I started Green Horizon because of my daughter," Ashlee said. "She had a horrible diaper rash and I had read that cloth diapers may help. Sure enough, her rash cleared right up! I have been hooked ever since."
She started her business in the fall of 2009. "With more and more people getting on the 'green trend' I knew I had to offer a service like this. ... We really needed an alternative to disposables in the area!"
Ashlee said some people are hesitant to go with cloth because they think they'll be hard to use. "But I find once we show someone exactly how easy it is, they are quick to get on board," Ashlee said.
Most of her customers cite environmental concerns as their reason for choosing cloth diapering. "Our families are very aware of what disposables do to the landfills (taking about 500 years to decompose), whereas cloth diapers can be used for probably all of your children and then reused as rags around the house."

Diaper Envy
Based in Glenville
Communities served: Albany, Saratoga, Schenectady and Rensselaer counties. Or, as they put it, "We cover from Selkirk to Saratoga and Schodack to Scotia. And all places in between."
Price for 100 diapers per week: $25 (sale price: $22.50)
Diaper Envy, too, started because of its founder's own experiences as a mom. When Beth Smassanow found she was pregnant, she says, she started doing research comparing cloth and disposables. "It soon became obvious that cloth diapers, while initially expensive, would ultimately be cheaper, healthier for our baby, and better for the environment," she writes on her website.
But she found that many of the moms she knew didn't have cloth on their radar. "When I told people we were going to use [cloth], so many people asked, 'Why?' And 'Isn't it gross?' ... "Lots of people are set in their ways," she says. "It's tough to persuade them to try something new."
But diapering her baby left her convinced that cloth was very easy to use. "And washing them was no big deal to me," Beth says. "So we decided to spread the word on their ease of use and try to get more people in the community to use them by offering a diaper laundry service and support."
She started Diaper Envy in March of last year.
"Truly, it is just as easy as using disposable diapers," Beth says. "We can assure you that once you get started you will feel the same as we do about cloth diapering."
Photo: Flickr user 114bberry
Say Something!
We'd really like you to take part in the conversation here at All Over Albany. But we do have a few rules here. Don't worry, they're easy. The first: be kind. The second: treat everyone else with the same respect you'd like to see in return. Cool? Great, post away. Comments are moderated so it might take a little while for your comment to show up. Thanks for being patient.