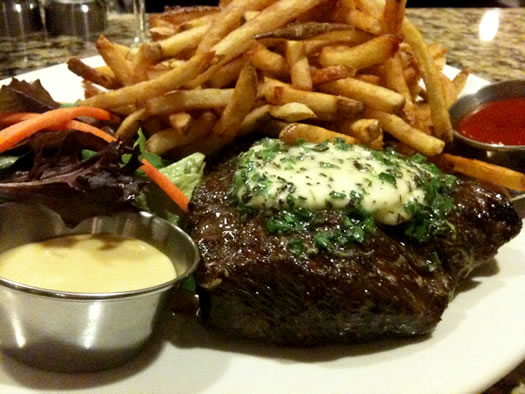 By Daniel B.
Garden Bistro 24 in Colonie sets itself apart from other local restaurants in a lot of ways. Not having a freezer is just one. And while I might miss ice cream, I appreciate the commitment to a tightly constructed menu based on fresh ingredients.
The menu does not try to be all things to all people. There is no Chicken Parmesan. This is the place to go when you know exactly what you want for dinner, and what you want is a simple and unpretentious meal of steak frites.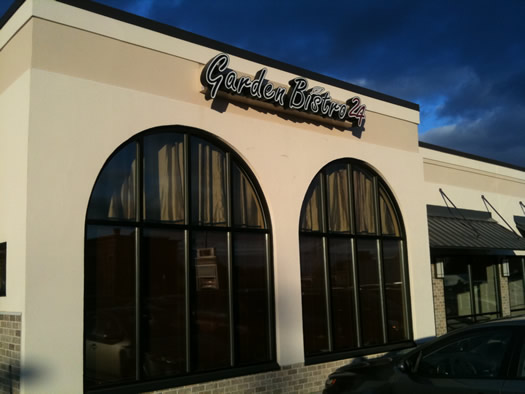 Yes, Garden Bistro 24 also serves six different variations of moules frites, and I'd highly recommend you get an order of them to split as an appetizer while waiting for your steak. They are quite delicious and the saffron tomato and Provencal versions go particularly well with red wine.
I mention red wine, because you have come here for steak. And sure, you could throw convention to the wind and enjoy a hearty robust white with your beef, but most people will stick to the classic pairing.
The wine service here is not to be missed. Garden Bistro 24 is one of those rare restaurants that encourage living life to the lees and buying a bottle. They do this through an advantageous pricing model on a thoughtfully selected list where most of the wine is under $30 a bottle with selections under $20 as well.
Inexpensive wine is not treated cheaply. In fact the wineglasses here are nicer than those at one of the most expensive Italian restaurants in town. The same is true for the well designed and heavy flatware, which might make you forget for a moment you are eating in a restaurant that only charges $14 for a steak dinner.
Granted, this is a bit more expensive than when the restaurant opened up a year ago. But it is still a relative bargain.
I'm a big fan of both the flat iron and hanger steaks. But having tried both at Garden Bistro 24, I can tell you the flat iron is the real winner here. When ordered rare or medium rare, it's juicy, beefy and toothsome enough to let you know that it's meat, without being tough.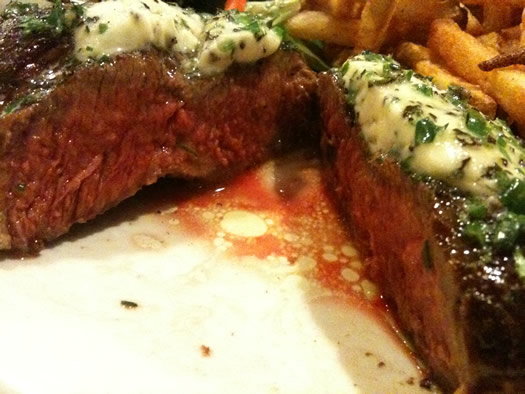 This steak was ordered "medium rare."
Get it with the herbed butter. The herbs add a subtle seasoning to the meat, while the butter melts down and mingles with the juices from the steak, which just demands to be mopped up with some crisp frites.
You might prefer the blue cheese-shallot butter, but blue cheese is notoriously known as a wine killer, much like asparagus or artichokes.
Each plate also comes with a token amount of green salad, so you can either cleanse your palate, or pretend you ate something virtuous over the course of your meal. If you must, there is an entire listing on the menu of salads, but order those at your own peril.
While there are some nice touches, this is not a fancy restaurant. Food doesn't need to be fancy to be good. But it is very refreshing to see a restaurant that has a singular focus, one that does not try to be more than it is, and one that can provide a good meal, for a reasonable price, at a nicely set table.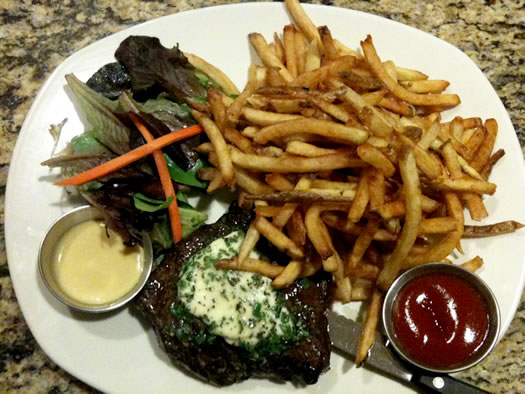 Daniel B. is the proprietor of the Fussy Little Blog.
Find It
Garden Bistro 24
1839 Central Ave
Colonie, NY 12205
Hi there. Comments have been closed for this item. Still have something to say? Contact us.