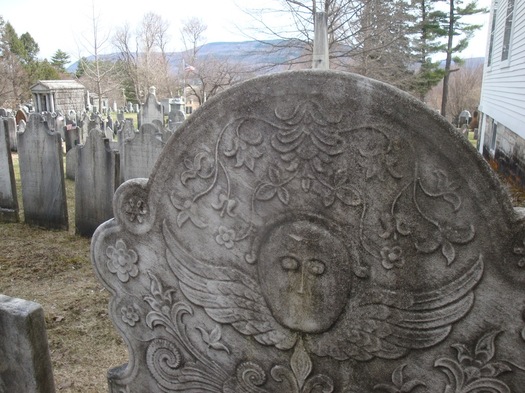 By Akum Norder
Oh, give us pleasure in the flowers to-day;
And give us not to think so far away
As the uncertain harvest; keep us here
All simply in the springing of the year.
-- Robert Frost, "A Prayer in Spring," 1915
Why do I like cemeteries so much?
There's a satisfactory melancholy to a cemetery ramble on an autumn day. But in the spring, there's a different feeling. Here come the tips of green, poking through the earth. The branches are still bare, but they're lively with chickadees. And the tombstones' shadows stretch in the cool light of April.
Renewal is in the air. A perfect time to stop and think about the inevitability of death.
Taking a ramble in an old, old cemetery is a privilege that's easy to come by here in the Northeast. And the Old First Church cemetery in Bennington, Vermont, is one of the best.
This church could be the Platonic form of New England churches. Its cemetery is beautifully maintained. And it's made especially good by the preponderance -- and the readability -- of epitaphs inscribed on the tombstones. The epitaphs tantalize us to imagine beyond names and dates; they offer glimpses of the deceased that help humanize the past.
Plus, Robert Frost is buried here, under a memorable epitaph of his own.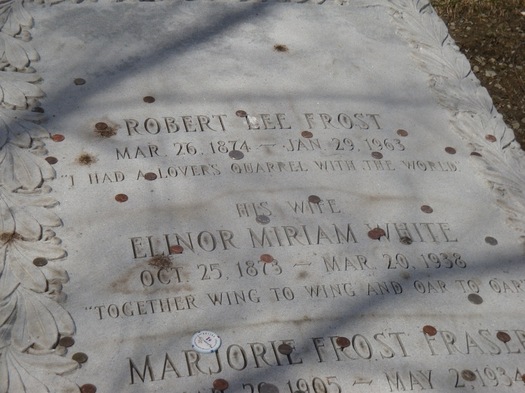 Frost never lived in Bennington. He did live in the area, in Shaftsbury, north of here -- but even after reading the explanation from the "Friends of Robert Frost" on why he's buried here, I admit the reasons are not clear to me.
No matter. You couldn't ask for a more New England location for New England's bard. The shadow of a birch sapling falls across his grave -- a poetic gesture on the caretaker's part.
Frost's own epitaph, as he set down in verse more than 20 years before his death: "I had a lover's quarrel with the world."
There's something there to think about, maybe. A way of life worth living.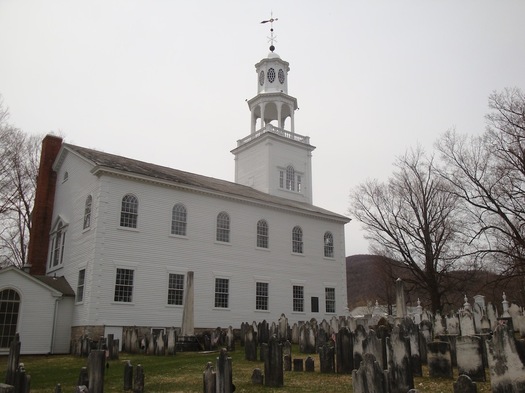 Frost's grave is toward the back, in a newer section of the cemetery. Up front are the 18th- and early 19th-century graves. The older headstones have a beauty that the modern ones can't match. Some are so crisp they could have been chiseled within my lifetime; some are faded to only tantalizing strokes of light and dark. An inscription will look impossible to read -- and then the sun will dip behind a cloud and the words leap out. Here is
Mr. Henry Walbridge II, who, amiable in the social, esteemed in the Christian, faithful in the civil, and brave in the military, Life, gloriously fell in defence of American Freedom in the battle of Bennington on the 16th of August 1777 in the 33rd year of his age.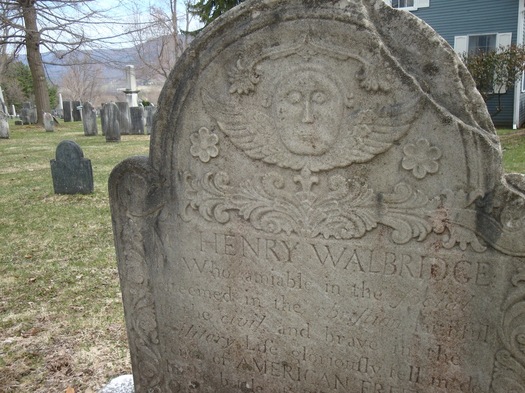 Frost wrote his own epitaph; but most of those buried here, I suspect, had their words chosen by another. It's an unsettling thought: If people were to know one thing about your spouse, your mother, your child, what would you want it to be? Would you recall their piety? Their selflessness? Their capacity for friendship? What's worth remembering if you have space to carve only a few words in stone?
Here is buried an "only son." Here, a "bosom friend." And here,
Mrs. Mary Cochran, the amiable consort of Mr. Robert Cochran, who, after performing the Endearing Offices of the conjugal life, As the Enlivening Friend & the Faithful Companion: Departed this life on the 31st of May 1777 in the ___ year of her age.
The age has chipped off. Did she live to see her husband grow grey? I'm going to imagine that she did. The writing has a tone of a journey taken. It stands in sharp contrast to this one --
Off from my side

the dearest half is torn
The rest lies bleeding
and but lives to mourn


-- Jonathan Robinson to his wife, Alice, 1810
I come across the Burgess family, 1840: Mother, father, and two sons, all died within six weeks of each other. An illness? What heartache there must be behind these stones.
On one monolith, loyalists, Hessians and revolutionaries are memorialized together: All players in a long-ago scene, with sorrows, no doubt, on all sides. All remembered, rightly, for having played a part.
A husband tender and a parent dear,
For human woes despensing virtuous tears,
With useful toil he fill'd his narrow span,
A pleasant neighbour & an honest man.
-- Capt. William Burt, died 1821.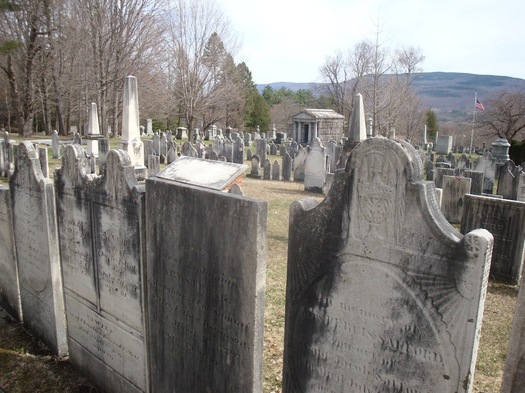 The inscriptions reveal something of our ancestors' values, their hopes, their faith. Do they necessarily get me any closer to knowing these people as they were in life? Of course not. But we all construct history as it suits us, and these give me something of what I want from the past: evidence that everyone who ever lived was as bumbling and hopeful, loving and clumsy as I am.
These stones make it clear: People have been loving and protecting each other long before I was born. As they shall in long years ahead.
As Mr. Frost once said: "In three words I can sum up everything I've learned about life: It goes on."
There's comfort in that.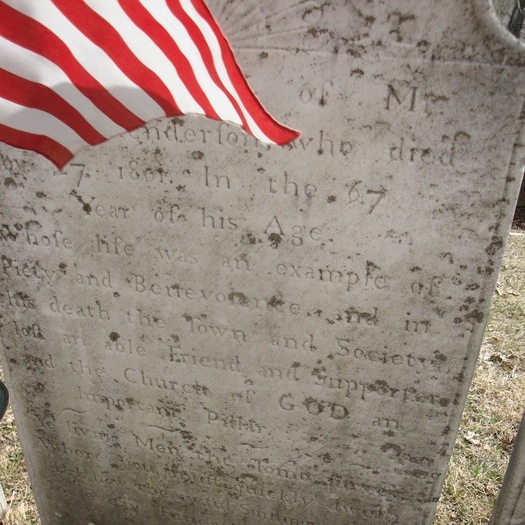 Find It
Old First Church
Vermont Route 9 and Monument Avenue
Bennington, VT 05201
Hi there. Comments have been closed for this item. Still have something to say? Contact us.