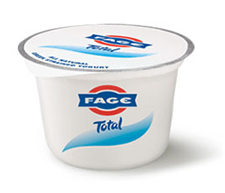 The market for Greek-style yogurt has been booming in the US over the last few years.
The manufacturing epicenter for the boom: upstate New York.
Three of the prominent Greek-style yogurt brands are made in this general area. Chobani, now the nation's #1 yogurt brand, is made in New Berlin (it says it's the largest producer of yogurt in the state). Fage opened a new plant in Johnstown a few years ago (as it happens, Chobani also traces its roots to Johnstown). And up-and-comer Siggi's -- which is technically skyr (we believe that's Icelandic for "Greek yogurt") -- is made in Norwich (and there's actually a guy named Siggi). [Businessweek] [Oneonta Daily Star] [Inc.]
The surge in demand for this kind of yogurt has been remarkable. The market has grown 100 percent a year for the last three years. Fage describes the situation as "ridiculously strong consumer demand." And the last time we were in Hannaford, a sign on the Chobani case said they were out of some flavors because the company couldn't keep up. [Business Insider]
But why upstate New York? Watershed Post's Julia Reischel had the best line about that: "Maybe it's the culture."
[via Watershed Post]
image: Fage
Hi there. Comments have been closed for this item. Still have something to say? Contact us.