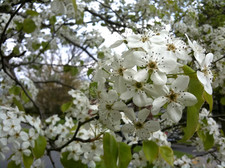 While out walking Otto today we noticed the pear trees -- with their white blossoms and, uh, distinctive odor -- are back in bloom. As Ryan wrote for AOA last year (almost a year to the day):
Which brings us finally to this: why does this tree smell so horrible? As far as I can tell, there isn't any research on why exactly the trees stink. However, I did come up with this: all of the approximately 30 species of pear contain the aroma compound pentyl butanoate. I will spare you the biochemistry -- this is the compound that makes pears and apricots smell as they do. One the precursors of pentyl butanoate is butyric acid, which is present in butter, parmesan cheese and... vomit.
Ryan's post also gets into the history of the trees and why they're everywhere (despite the stink).
Hi there. Comments have been closed for this item. Still have something to say? Contact us.