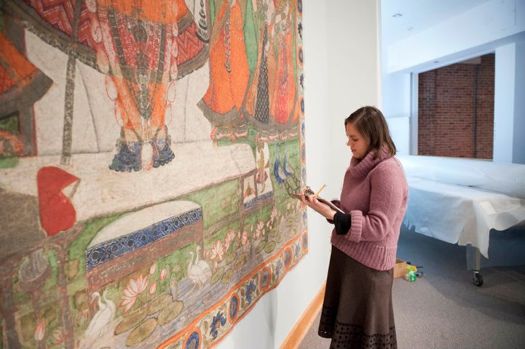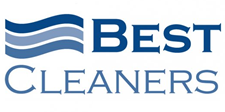 On day two of our shoptastic Best Cleaners spring refresh weekend we met Emily Vorce.
Emily works in the Berkshires, and has spent the better part of the last few months hiding under lots of layers. In her entry she told us:
The uniform out here is sweater on top of turtleneck, tights, skirt, boots, multiple undershirts. It's freezing and you can get buried in sweaters and never get out. I'd like to transition into some great spring dresses with florals and colors. Something cheery, less serious.
Kaitlin and Carey's task: to lighten things up a bit. They had some help from V Salon's Rebecca Taft and make-up artist Cindy Slyke.
Like Michael Walsh, Emily was a great sport -- excited and ready to try new things. And, like Michael, she looked gooooooood.
Hair/Makeup
What Emily didn't tell us in her entry is that she's getting married in about a month. She's already tried her wedding hairstyle and her stylist asked her not to cut much. So Rebecca focused on color instead.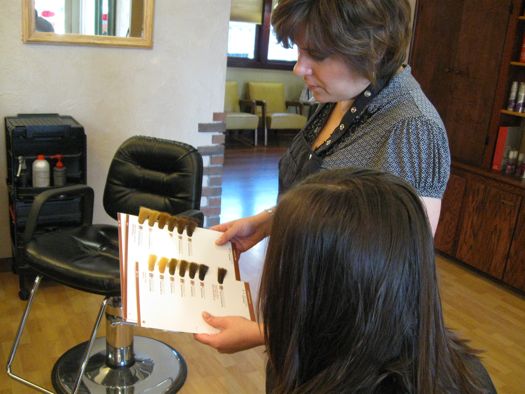 Rebecca's take
Emily wanted color that was a bit richer than her regular hair color so I used a semipermanent brown/gold that will gradually fade. It's low commitment and she won't have telltale "roots". I also put some very long layers in her hair and trimmed her bangs a tiny bit; putting some subtle layers in the hair allows the client to maintain their length while still giving her a little bit of style -- a very popular idea with those who have a big event coming up and don't want major change, or still want their long hair but are bored with just the length.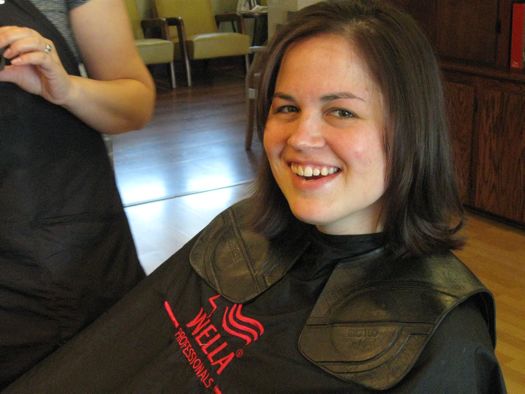 Then it was on to makeup with Cindy Slyke from V and Saratoga's Sanctuary Spa.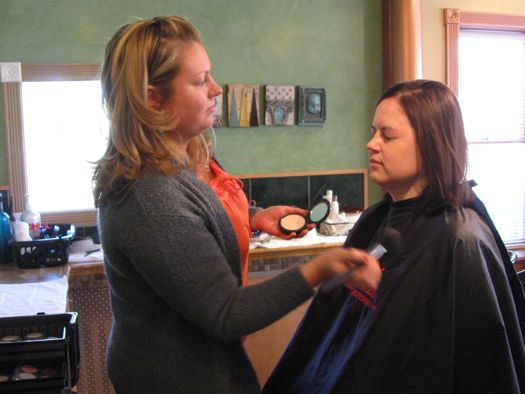 Cindy used a blue shadow to bring out the brown in Emily's eyes and just polished up her pretty, natural look.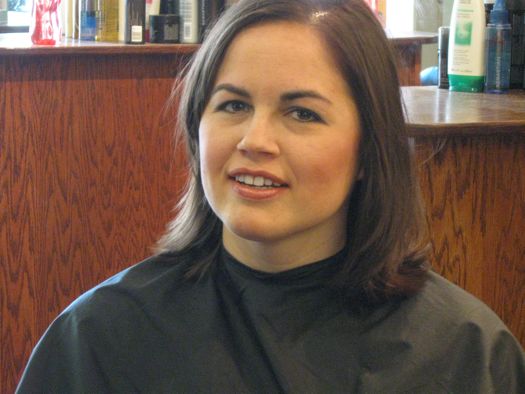 Shopping
Emily and her fiance are planning to honeymoon in Napa, so Kaitlin and Carey set out to find her a new look that would work on a tour through wine country. They found two looks for under the $250 budget.
Carey's take
The minute I saw Emily, my socks were knocked off by her striking features, eyes, and dark hair. But she was wearing almost all brown... in the spring!
That steered the course: we went with an investment piece -- a watercolor floral silk dress -- as the staple. We threw a lot of soft tones at her, tried some new silhouettes, and kept an eye out for effortless layering options (knowing N. Cali weather can be tricky). Girls are easy to blow a budget on: necklaces; some chic, understated plum retro shades; sky-high espadrilles (apologies in advance, Emily), and a straw fedora we couldn't pass up. She went from conservative to a total dish, in my opinion.
Kaitlin's take
Like most of us who spent our winters in too many layers and bemoaning the fact that winter hangs around a little longer than we'd like, Emily was definitely ready to make the switch into spring (and to grab a few pieces that would fit in well during her approaching honeymoon trip)!
Emily was our choice because she really seemed to get into the spirit of this whole thing in her entry, and in person it was no different. After lucking out on a great spring dress we started on the rest of the look -- going with a cardigan for when it's still chilly, and throwing a skirt over the dress so that the latter doubles as a blouse! After getting the outfit basics, we were all ready to throw ourselves into accessories -- which, thankfully, are a pretty plentiful find for women.
So how did it all come together? See for yourself:
The Look(s)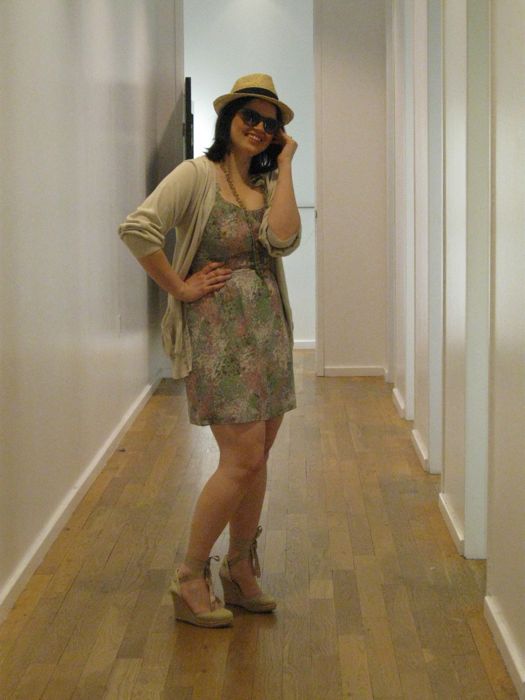 (Look 1)
(look 2)
+ Everything was built around this floral print dress from JCrew, which was an absolute steal at $50.00. We had the main piece, and still had $200.00 left to spend, which had our shoppers more than a little bit psyched.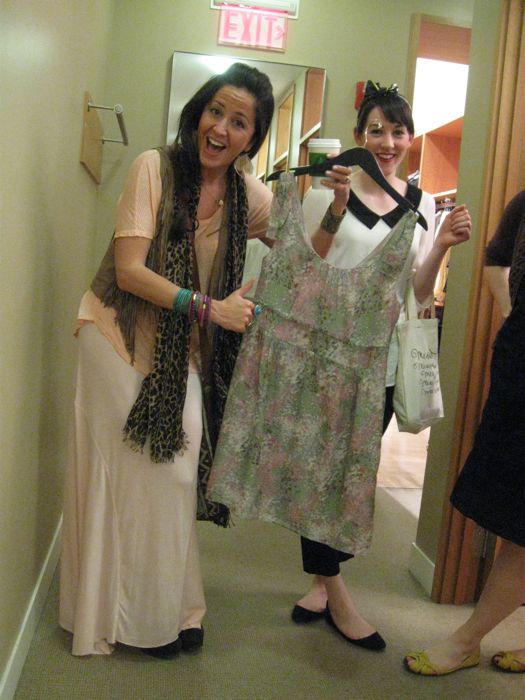 + At Forever 21 Kaitlin and Carey created the second look, with a peach eyelet skirt ($22.80), lightweight cardigan ($27.80) and two colorful necklaces ($4.80 each).
+ The big splurge, a pair of heels at Aldo for $70.00.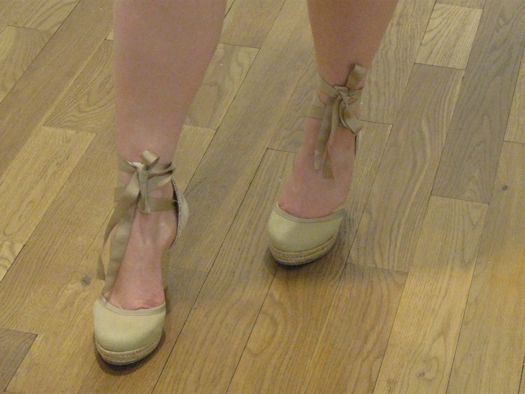 + A belt and straw hat from H&M ran $6.95 and $5.95 respectively.
+ And purple sunglasses from The Gap for $25.00.
The total after tax for a dress, a skirt, a cardigan, shoes, jewelry, a belt, hat and sunglasses-- $230.46!
Thanks!
Many thanks to everyone who helped us with the refresh. Rebecca Taft at V Salon. Cindy Slyke from V and Sanctuary in Saratoga. Carey Wodehouse and Rob Burden from Corks and Caftans. And Kaitlin Resler from All This Happiness.
Earlier: Best Cleaners spring refresh: Michael Walsh
Best Cleaners has 10 locations around the Capital Region -- and offers free delivery.
Hi there. Comments have been closed for this item. Still have something to say? Contact us.