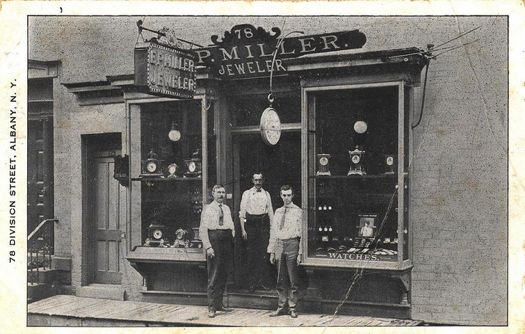 By Rob Madeo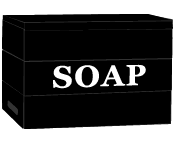 I came across a postcard from E.P. Miller Jewelers on Division Street in Albany. In the doorway are three serious looking chaps, one of them, presumably, E.P. himself. They sold watches, clocks, all variety of fine jewelry -- plus you could stop in for a pair of eyeglasses, for Mr. Miller was a licensed optometrist.
E.P. knew that it pays to advertise, and it's easy to find his ads in old copies of the Albany Evening Journal and Altamont Enterprise. Plenty of people used to take the train to work in Albany, so the suburban paper made good sense.
When the card (view larger) was mailed in 1908, Miller's store stood in the heart of what I call Albany's Parking Lot District. This vast, empty landscape of nearly seven acres was once a bustling part of the city.
Now it's a wasteland.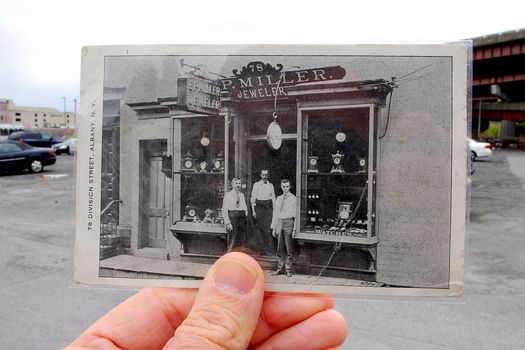 This all caught my attention because I sometimes shell out $5 a day to leave my car in the Parking Lot District. When you walk along Division Street you can detect the outlines of some of the buildings that once stood there. Cobblestones peak through the asphalt on Green Street.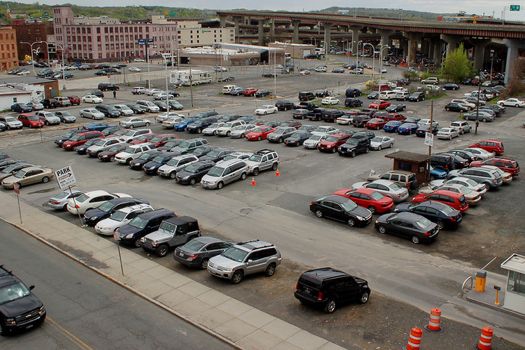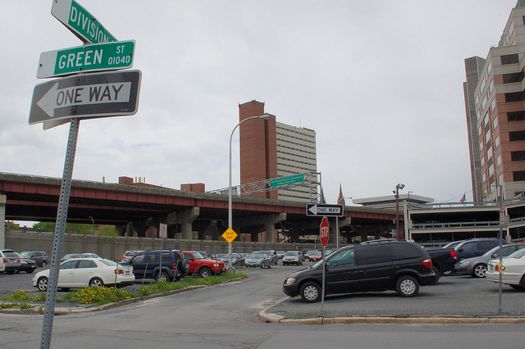 Some people have big plans for the Parking Lot District. It's the site that's proposed for Albany's convention center, which some say we need the way a fish needs a bicycle. What's wrong with those folks? You don't think people would rather come to Albany for a meeting than New York or Boston?
E.P. Miller was a latecomer to that part of town, which was settled hundreds of years ago. Back in October, the Albany Convention Center Authority held a dog and pony show nearby, where archaeologists searched for artifacts of old Albany. They unearthed some interesting things, as is often the case when you stick a shovel into the ground downtown.
Politicians lined up to explain how important it is to preserve our history. Mayor Jerry Jennings told the Troy Record: "What we're doing here is obviously setting the ball in motion for us to further explore the history of our great city and make sure that we don't lose any of that history when we do develop this site."
I'm not sure how building the convention center over this site will preserve our history, but if burying the artifacts under tons of concrete will protect them, I'm all for it.
There's no use complaining about how this section of the city was gutted -- and compared to what Nelson Rockefeller did to build the Empire State Plaza, it's small potatoes. And after all, I suppose a big empty building is better than the ugly scar on the landscape that sits there now.
Rob can be found at lunchtime in downtown Albany huddled near a wi-fi hotspot.
Hi there. Comments have been closed for this item. Still have something to say? Contact us.