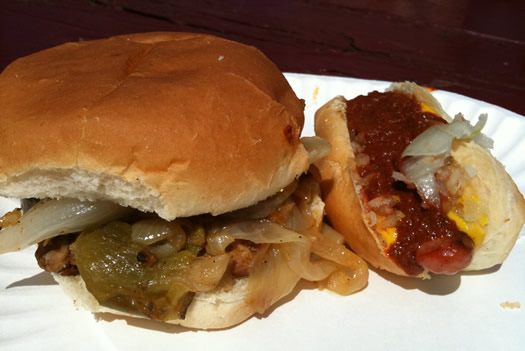 By Daniel B.
Is there a season for the Capital Region's unique style of mini-hot dogs?
This is our street food. It's the region's answer to the taco. Something that's intensely flavorful, can be consumed in a few bites while standing up, and costs mere pennies. It may be difficult to find them from a street vendor, but they can be found throughout the region both at seasonal ice cream stands and long established restaurants dedicated to the form.
Gus's is the rare institution that firmly falls into the latter, but from the outside the place could easily be mistaken for the former. It's a small red shed by the side of the road set beside a large number of picnic tables.
Regardless of whether there's a season for our mini-hot dogs, it is definitely the season for Gus's. Except the best thing on the menu isn't the hot dog.
Just follow the signs.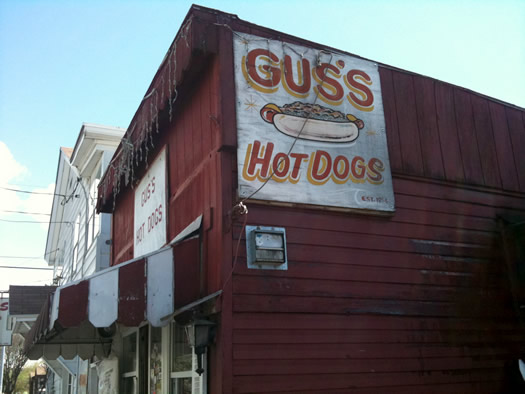 Sure, the place is technically called Gus's Hot Dogs, and there will be those who swear that Gus's makes the best mini-hot dogs in the region. (The attendees of the Tour de Hot Dog would beg to differ.) However, take a careful look at the signs.
On the side of the building is one sign giving the "Grilled" Sausage Sandwich with Peppers and Onions top billing over the Greekburger (and rightfully so -- order the Greekburger at your own risk). Then right under the take-out window is a second large sign, just in case you might have forgotten about this special treat when ordering.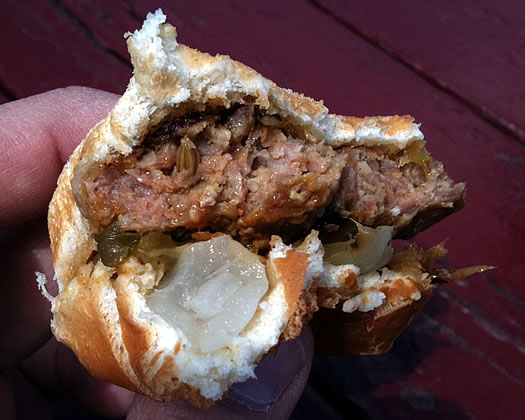 This is a rustic sausage patty, spiked with whole fennel seeds and spice. It's fried on the griddle, which is presumably why "grilled" is placed in quotation marks, and like the sign proclaims, it's smothered with large pieces of sautéed green peppers and onions. All of which come between the slices of a generic white hamburger bun.
This isn't a fancy sandwich. And for $1.70 it doesn't pretend to be. Although it is almost twice the price of Gus's famous hot dogs with meat sauce.
Gus's isn't a fancy place, but it is a special place. It's a place that is as central to the food culture of the area as Pink's is to Los Angeles. And now is the time to go. Yes, you'll get a hot dog with everything because it's impossible to resist their siren call once you are there.
But it's the sausage sandwich you'll come back for.
Daniel B. is the proprietor of the Fussy Little Blog.
Find It
Gus's Hot Dogs
212 25th Street
Watervliet, NY 12189
Hi there. Comments have been closed for this item. Still have something to say? Contact us.