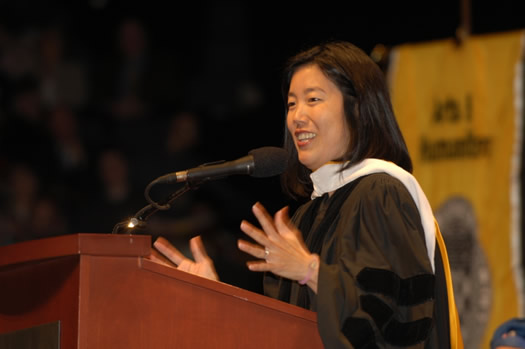 Commencement was this past weekend for the College of St. Rose, the University at Albany, Siena College, and the Sage Colleges. Here are four of the commencement speeches in four lines (or so):
St. Rose: former DC schools chancellor Michelle Rhee
"We should be striving always to be better or we will never be better. Our country needs to regain its competitive spirit." [St. Rose press release]
UAlbany: alumnus, and Wicked author, Gregory Maguire
"Stories start right out with action. Your story starts today. What will you imagine?" [TU]
Siena: Dr. Anthony Fauci, director of the National Institute of Allergy and Infectious Diseases
In referring to George Bernard Shaw's remark that youth is wasted on the young: "Please prove Mr. Shaw to be wrong. You are ready for the world now and the world certainly is ready for you, and needs you." [Troy Record]
Sage Colleges: LouAnne Johnson, the teacher and author whose book became the movie Dangerous Minds
While doing an impression of the main character in her book Muchacho: "You don't get the life you got because of being lucky, or poor, or Mexican. You get it because of the way you think about yourself. Because you think you're a loser, you're going to be a loser. If you think you're going to be a success, you gotta set your intention. Like I used to be afraid of being an intellectual because I thought was going to get my ass kicked all the time. But then I figured that's only in school. When you get out of school, people don't kick your ass for being smart -- they give you money." [Sage Colleges video]
Commencements coming up: Skidmore (May 21), RPI (May 28 [corrected]), and Union (June 12).
photo via the College of St. Rose
Hi there. Comments have been closed for this item. Still have something to say? Contact us.