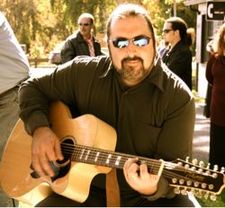 WEXT's My Exit is back. Every Monday night local listeners get to come into the station and program an hour of music. We thought it'd be fun to find out a little bit about these people and why they picked the songs on their play list.
Here's this week's person...
Who:
Bret Scott, from Waterford. I'm the lead vocalist and rhythm guitarist for a local cover duo, The Collectors . You'll find myself and my partner Jason McDonald playing in and around the Capital District.
Musical Taste:
Growing up, my musical tastes tended toward metal and blues-based rock. I found that playing guitar both influenced and broadened my musical tastes; blues, flamenco, bluegrass, jazz... glorious stuff to be found everywhere. The songs I picked for this show reflect music that moves me and has helped shape me as a performer and enthusiast.
A few songs from Bret's My Exit show:
Cold Wind Blowing -- Rhett Tyler
I listen to quite a bit of blues these days, and I've been fortunate enough to make the acquaintance of a somewhat local bluesman, one Rhett Tyler. He's played locally here at Caffé Lena, and at a bluesfest in Empire Plaza. Most often, he can be found playing at Terra Blues in NYC. He plays a mix of rock, blues, gospel, soul; he titled one of his CD's "Don't Put Me In No Box". I can tell you that he is easily one of the most electrifying blues guitarists I have ever seen perform; he is absolutely ferocious live. This is from his live release, Live at Manny's Car Wash.
That's The Way -- Led Zeppelin
A big influence on my musical development over the years has been the work of Jimmy Page and Led Zeppelin. Their third album has some wonderful acoustic songs, including this first item. This is a song my partner and I perform, and it gives me an excuse to haul another guitar to gigs, as it's recorded in open G tuning. One of my personal favorites.
River Street -- Maria Zementauski
I went to a show in Kingston years ago to see Helen Avakian play. In that same show, I was treated to my first real exposure to flamenco guitar -- in the hands of a local master, well-known to Exit listeners, Maria Zementauski. Maria plays with such precision and such fire; it blows me away to watch her. This is from her CD "Under The Lemon Tree," and was written to commemorate a street in Troy, where she lives.
A Million Miles Away -- Abraxas Pool
I stumbled across a lovely little side project of guitarist Neil Schon, known mainly for his stint in Journey. Neil was also a prodigy who played in Santana at a rather tender age, like 17. In 1997, he did a project with former Santana vocalist and keyboard player Greg Rolie, called Abraxas Pool. The Latin percussion, the soaring guitars, all very well done, and reminiscent of Santana's earlier years. This one in particular is a very soft, sweet song.

Richmond -- Joe Bonamassa
A somewhat local guitarist (from near Utica) has grown into a major international act, mixing blues and rock. Another artist who cites Led Zeppelin as a big influence, Joe Bonamassa played fairly recently at The Palace... not long after playing the Royal Albert Hall in London. He is also an electrifying performer, but has beautiful songs like this one, "Richmond," from his album Sloe Gin.

You can hear Bret's My Exit show tonight at 8 on 97.7 or at exit977.org.
Here's how to schedule your own My Exit show on WEXT.