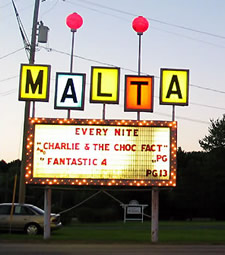 The new market at the Malta Drive-in starts up this Sunday. It's scheduled to run each Sunday from now through early October.
The lineup for the market includes local artisans, antique dealers and food. It sounds kind of fun -- so we bounced a few questions to the market's organizer, Mike Thompson, about what we should expect...
How'd you come up with the idea to open a market at the drive-in?
My wife and I visited the Mansfield Market at the Mansfield Drive-In in Connecticut a few summers ago. Recently we lamented the lack of a local weekly flea market, and we thought "let's create our own market filled with stuff we'd like to buy!" Then our idea began to really take shape after much thought, research and a few bottles of wine.
What was the initial reaction from the drive-in owners?
They were very receptive right from the beginning. Ed and Tom Caro have been wonderful partners through the entire process.
What sorts of vendors do you have lined up?
Among the wide variety of folks who are coming include antique and collectible dealers, local artisans and folks who make and sell their own specialty foods. We should have a very interesting mix of creative and unique vendors.
We've seen that you're not a fan of the term "flea market" -- why not?
Many flea markets have become outdoor dollar stores and outlets for cheap, mass-produced crap. We have no interest in any of that and it's available everywhere anyway.
So we are disavowing the "flea market" term and creating our own niche, which is a real community open market, where local folks will have an opportunity to show off their wares in a fun, affordable and readily accessible setting. We are prepared to grow with the community, and look forward to supporting area entrepreneurs who have a strong passion for what they do, and give everyone in the area the chance to buy local every weekend.
____
The Malta Drive-In Market is open Sunday from 9 am - 3 pm. It's $3 per carload to get in.
Find It
Malta Drive-in Market
2785 Route 9
Malta, NY 12020
Hi there. Comments have been closed for this item. Still have something to say? Contact us.