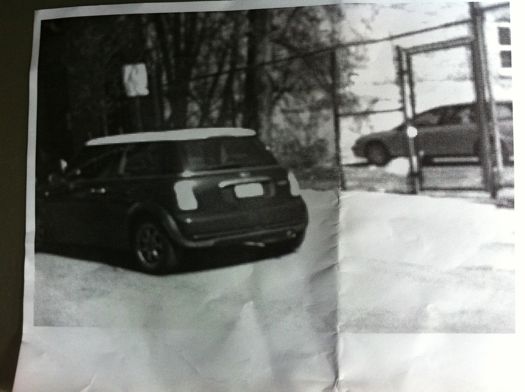 A few weeks ago, on a cold, rainy night, the AOA-mobile was parked in what has come to be known around the downtown office as "the sketchy spot": two feet away from a driveway (OK), but in front of a sign that says "No Parking, Driveway" (not OK). The sign has an arrow pointing to the aforementioned driveway (that is, we remind you, two feet away).
Parking there is kind of ticket Russian roulette -- usually you won't get tagged, but do you really want to take that chance? Still, you're not causing a hazard or problem for anyone, or being a jerk to your neighbors. Let's just say that on this particular cold and rainy night, it was worth the gamble.
And this time we lost. And we paid the ticket. But we decided to go to the Parking Violations Bureau to inquire about the sign and try to clear up the sketchiness surrounding the sketchy space.
And we learned something we though you might want to know. Albany parking tickets now come with photographic proof.
When we showed the clerk our parking ticket and explained the situation, she entered the number into her computer and seconds later she'd printed three photos. The photos were fuzzy but it was definitely our car next to the sign.
The devices the Traffic Safety Patrol use for writing tickets are now equipped with cameras. It got the new devices last year.
In this case, the photographic evidence may be good for us, since it proves we were, in fact, nowhere near a driveway. The parking violations folks said it may be a case where the sign is in the wrong place. In most cases, though, the photos are used to prove a driver did park in a place where they shouldn't have.
The clerk was reluctant to give us the photos. But the next day we went back and Jim Van Apeldorn, the manager of the Parking Violations Bureau, was at the desk and happily handed them over. He says as long as it's for your own vehicle, they'll give you the photos.
Van Apeldorn says they've been using the cameras for about a year now. Only the traffic safety department uses them, not the police. And while they don't take pictures of every violation, they take them for most.
He says his office has to pull out the photos three or four times a day to prove to people that they did, in fact, park where they say they didn't. Van Apeldorn thinks it's too early to tell how much revenue the cameras have brought the city, but he says they've helped out in his office quite a bit. "I love the look on people's faces when they come in and say 'Oh, no, I wasn't parked there,' and then you show them the photo. When people see the proof they tend to calm down a bit, even apologize sometimes, and they're less likely to want to take the ticket to court because there's proof."
This was the first case he could recall where someone was using the photos to point out that a space may be marked incorrectly.

So, yeah, think twice before you park next to that sign. Unless it's a sketchy spot. We'll let you know how that turns out.
Hi there. Comments have been closed for this item. Still have something to say? Contact us.