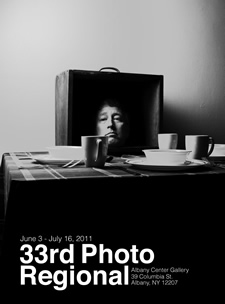 The 33rd annual Photo Regional exhibit opens this Friday at the Albany Center Gallery in downtown Albany. There's a reception from 5-9 pm as part of First Friday. From the blurbage:
From nearly 500 submissions―a near record―35 images created by 30 artists comprise the exhibit. Artists selected include Jeffrey Altman, Steven Rolf Kroeger, Mark McCarthy, Jenny McShan, Linda Morrell, Anthony Salamone and Dave Waite.
It was curated by Ian Berry, of the Tang Teaching Museum and Melissa Stafford from Carrie Haddad Photographs Gallery in Hudson. Tim Kane, independent arts journalist, was associate curator.
The Photo Regional remains a mainstay of the local photography scene as a source highlighting the region's diversity in the medium. Started in response to the lack of venues staging exhibitions with photography as fine art, the rotating and yearly survey provides a snapshot on recent activity in the field within a 100-mile radius of Albany.
The exhibit runs through July 16 at ACG. There's also an awards ceremony June 11.
Find It
Photo Regional at Albany Center Gallery
39 Columbia Street
Albany, NY 12207