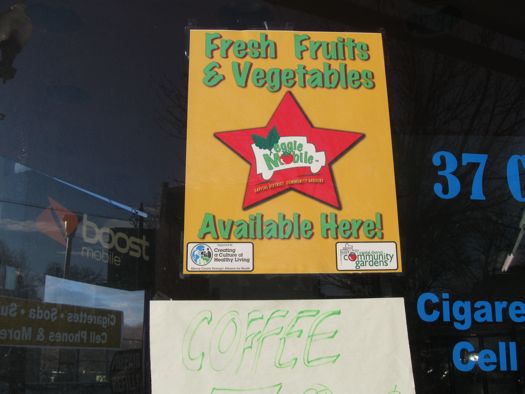 There are places where convenience stores are like small neighborhood markets, stocking household staples and a few fresh fruits or veggies. The Capital Region is not one of those places. Here, the convenience store is the place you go when you run out of milk, or when you get a late night craving for some chips, beer or ice cream.
The Capital District Community Gardens -- the people behind The Veggie Mobile -- wants to change that.
Its new convenience store initiative is bringing affordable, fresh tomatoes, cucumbers, bananas and other produce to convenience stores in Albany, Schenectady and Troy.
"The Veggie Mobile is great and people are flocking to it -- about 40,000 a year -- but we could only reach a certain number of people in a certain number of places," says Amy Klein, the executive director of the Capital District Community Gardens. "This is part of a multi-pronged approach where we can put fresh fruits and veggies in stores that people are already visiting in their neighborhoods."
Klein says the org piloted the initiative back in February with a $35,000 grant from the Albany County Strategic Alliance for Health.
They started with two stores and have since branched out to five:
The Corner Store - 106 Ontario Street, Albany
Prince Grocery and Deli - 37 Central Avenue, Albany
Ida Yarbrough Convenience Store - 260 N. Pearl Street, Albany
SPI Instamart - 699 North Pearl Street, Albany
Safa Market - 1575 Becker Street, Schenectady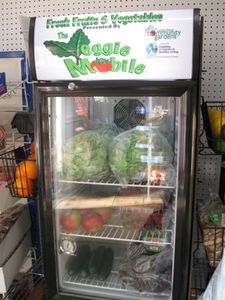 Klein says the test stores have done very well. They started by offering 12 to 15 core items like lettuce, tomatoes and oranges. She says it wasn't long before the stores were asking for more. They're also taking requests. "Some people have asked for things like plantains, so we're bringing those to some of the stores."
The convenience store prices are slightly higher than The Veggie Mobile prices, since the store owners need to make a profit. "Some stores where you actually can get produce have something like a 400 percent profit margin -- so a banana can be about $1.00. We're working with the store owners to create a pricing structure that ensures a profit, but is still affordable." In participating convenience stores you can get bananas for .50, potatoes for .20, and cucumbers for .50.
"We'd like a kid to be able to stop in after school and get a piece of fruit for less than they would pay for a candy bar," says Kline
CDCG designed special display units and installed them in the stores in places where they would be clearly visible. "At first we worried about taking up too much display space, but now it looks like we might need to design a larger unit," Klein says.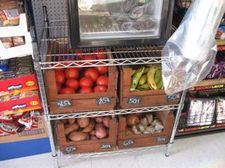 So with this kind of demand, why don't convenience stores just stock produce? Cost, for one. "There are really two places you can get produce," says Klein, "the grocery store and the wholesale market. At the wholesale market you have to buy by the case and maybe you can't move that much. If you're buying retail, you have to add another mark-up and you have to sell it for a high price. The Corner Store was buying a few produce items from the supermarket and they had to sell them at a higher price."
Also, produce is highly perishable so if you can't move it quickly you're going to lose stock. And, Klein says, you really need an understanding of how to work with produce -- what things you can put next to each other without spoiling faster, and the folks at CDCG can help with that.

CDCG restocks twice a week so the produce will always be fresh. "The stores are making a profit and there are studies that show that if people come into a convenience store to buy something like fresh produce, they'll often purchase something else as well."
Like the Veggie Mobile, the convenience store initiative was created to provide access to affordable fresh fruits and veggies in "food deserts" where folks might have a hard time getting to a grocery store. But, like the Veggie Mobile, Klein says, the service is available for everyone. "We never restrict these services. Everyone can and should access them."
Klein says additional funding has helped them bring the initiative to Schenectady and they'll soon be working with a store in Troy. The next step will be forming partnerships with even more stores in the three counties. So will we see much larger CDCG produce sections or stores in other Capital District communities down the line?
"I think anything is possible without the right funding and community support. The only limitation here is resources. The demand is huge, which is fantastic. It doesn't surprise us, because we know people want good, healthy food, but we're hoping the more we talk about this, the more other people will be aware. My hope as an organization is that we continue to develop new innovative programs and that we are able to continue to expand these successful programs."
Earlier on AOA:
+ Your Veggie Mobile questions answered
+ Interesting in 2010: the Veggie Mobile's Eric Krans
Hi there. Comments have been closed for this item. Still have something to say? Contact us.