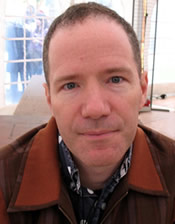 Rick Moody
The New York State Writers Institute has released the lineup for this summer's reading series in Saratoga.
There are a lot of names on the list you might recognize, including Mary Gordon, Michael Ondaatje, Robert Pinsky, Russell Banks, Joyce Carol Oates, Rick Moody, and (of course) William Kennedy...
Session one
July 4: Elizabeth Benedict & Joseph O'Neill
July 5: Mary Gordon & Frank Bidart
July 6: Michael Ondaatje & Campbell McGrath
July 7: Linda Spalding & Marilynne Robinson
July 8: Robert Pinsky & Jazz Combo
July 11: Carolyn Forche & Andrea Barrett
July 12: Victoria Redel & Caryl Phillips
July 13: Binnie Kieschenbaum & Phillip Lopate
July 14: Siri Hustvedt & Paul auster
July 15: Honor Moore & William Kennedy
Session two
July 18: Richard Howard & Francine Prose
July 19: Amy Hempel & Tom Healy
July 20: Charles Simic & Danzy Senna
July 21: Russell Banks & Chase Twichell
July 22: Joyce Carol Oates
July 25: Rick Moody & James Miller
July 26: Howard Norman & Carl Dennis
July 27: Mary Gaitskill & Peg Boyers
July 28: Jamaica Kincaid & Henri Cole
July 29: Clark Blaise & Bharati Mukherjee
All readings are at Palamountain Hall at Skidmore. They're open to the public (and free). They start at 8 pm.
The reading series is part of the Summer Writers Institute, which includes courses in poetry, fiction, and nonfiction.

photo: Kudosmaker (Seamus Kearney) via Wikipedia