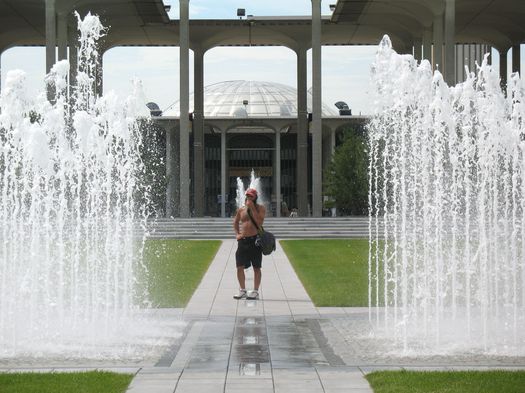 The SUNY system has a $1.3 billion annual economic impact on the Capital District, according to an analysis done by Rockefeller Institute at UAlbany and the University at Buffalo Regional Institute. It figures the SUNY system has a $19.8 billion impact on the state as a whole.
Here's a handful of facts, figures and bits for the Capital District that we pulled out of the report, in a few cases matched up with outside data...
+ SUNY institutions in this region have a $2.1 billion economic impact on the whole state. Of that impact, $1.3 billion is on the Capital District (62 percent).
+ The Albany-Schenectady-Troy metro area's GDP was $39.6 billion in 2009 (according to the federal Bureau of Economic Analysis). So the local SUNY economic impact was about 3.3 percent of the metro area GDP. (That's just a rough way of thinking about it -- we're probably comparing orange slices and tangerines.)
+ About 8,800 people are directly employed by SUNY in this region (more than 500 in central administration). Another 8,800 are employed in related businesses.
+ The system in this region spends $1.4 billion a year -- of that, $910 million is estimated to be spent directly in this area.
+ Between UAlbany, four community colleges, and one tech college, there are more than 44,000 SUNY students in this region.
+ SUNY students in this region spend $210 million a year. If you figure that UAlbany's approximately 18,000 students spend at the per-student average rate ($4,773), that's about $86 million a year (from our quick estimates, not the report).
+ More than 166,000 SUNY alumni live in the greater Capital District, about 21 percent of the area's population.
+ Of those alumni, about 103,000 graduated from a SUNY school in this region. About 63,000 are from SUNY schools outside the region.
+ The report also highlights all the activity at Albany NanoTech and its emperor, Alain Kaloyeros. The nano college has attracted $6 billion in investment. And there are now about 2,600 people employed there, between the college and private partners.
Here's the download link for the report. It's also embedded below. The analysis is based on data from 2008-2009 (the methodology is explained in the report). It defined the Capital District as Albany, Columbia, Greene, Rensselaer, Schenectady, Saratoga, Warren, and Washington counties.
While there's no reason to doubt the researchers behind this report made a good faith effort to provide an accurate picture, it should be noted that the report was commissioned by SUNY chancellor Nancy Zimpher. And the system is using the results to fluff its image around the state -- especially as its administration pushes for more autonomy for research centers such as Buffalo and Albany.
Hi there. Comments have been closed for this item. Still have something to say? Contact us.