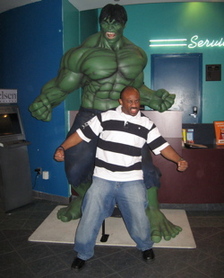 WEXT's My Exit is back. Every Monday night local listeners get to come into the station and program an hour of music. We thought it'd be fun to find out a little bit about these people and why they picked the songs on their play list.
Here's this week's person...

Who:
Joe Nathan McDaniel II from Troy, NY by way of the dirty south (Arkansas). IT professional by day, general hooligan at night.

How would you describe your musical taste?
I thoroughly enjoy music too much to have a favorite. It depends on my mood or my activity -- I enjoy just a little bit from every genre. My collection is definitely heavy on the R&B, Soul and Hip-Hop side. I've got everything from Frank Sinatra to Killswitch Engage. There's also some Spongebob Square Pants remixes and William Hung sings the blues.

A few songs from Joe's My Exit Show:
It's Only Love Doing It's Thing - Barry White : You can't go wrong with some Barry White in your life. Smooth, soulful and downright sexy. It's the type of music that calms me and makes me smile. It also makes me miss my afro and wish I had a deeper voice.

Early In The Morning - The Gap Band : This is what an alarm clock should sound like. Nothing gets the blood moving like a little funk, except coffee and a speeding car drive to work because I'm late... again.

Signs - Snoop Dogg feat Justin Timberlake and Charlie Wilson : As if Snoop isn't cool enough with his swag on his own, this track he gets back up from J.T. and Charlie Wilson. The Gap Band funk meets West Coast Cali music love.

Empire State of Mind - Jay Z and Alicia Keys : even though I'm not a NY native, I love the state and miss my days living in Brooklyn. This song is a great ode to NY. If you don't live in NY, even if you've never been to NY, after hearing this song you will be ready to relocate.
You can hear Joe's My Exit show tonight at 8 on 97.7 or at exit977.org.
Here's how to schedule your own My Exit show on WEXT.