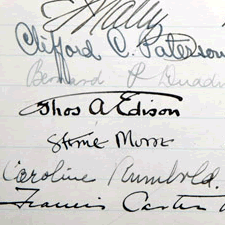 GE has posted images from the guest book for the company's original research center in Schenectady (GE Global Research is now in Niskayuna):
While its beginnings were humble, it didn't take long for scientists and inventors from around the world to flock to the Research Lab to see what GE was working on. And each famous mind that visited would stop at Willis Whitney's desk to sign the VIP guest book. The book sat at Whitney's desk from 1914 to 1935, and the signatures are a veritable Who's Who of inventors, physicists, chemists, physiologists, and businessmen -- including 9 Nobel Laureates.
The collection of people who stopped by the place during its first years is remarkable. Among the names signed in the book: Bohr, Marconi, Pavlov.
photo: GE Reports