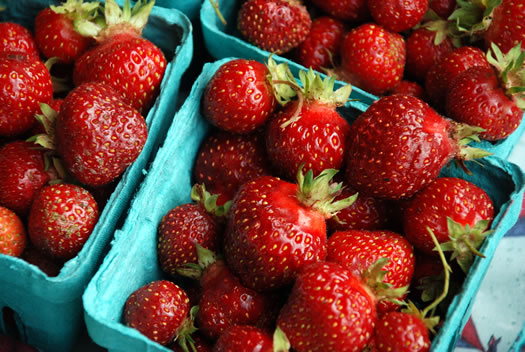 It is now, officially, strawberry season in New York. This year's season seems to be a little later than last. Many local farms are just opening for pick-your-own berries. But don't wait too long -- the season only lasts a few weeks.
Here are a handful of places in the greater Capital Region that you can pick your own strawberries. Know of a good place not on this list? Please share!
Important: you should call ahead the day you're heading out to get the conditions
Albany County
Altamont Orchards
6654 Dunnsville Road Altamont, NY 12009 (map)
(518) 861-6515
Monday-Friday 8-12:30 | Saturday and Sunday 8-3 (call for possible extended hours)
PYO strawberries are $2.09/pound Thursday-Tuesday, $1.99 on Wednesday
Peak of the season is expected starting June 17.
Indian Ladder Farms
342 Altamont Rd, Altamont, NY (map)
(866) 640-PICK
Monday-Sunday 9-4:30
Pick your own strawberries are $2.95/quart. As of today, conditions are said to be "good."
Columbia County
Samascott Orchards
5 Sunset Ave, Kinderhook, NY (map)
(518) 758-7224
Monday-Sunday 8-6
PYO strawberries are $2/pound.
Rensselaer County
The Berry Patch
15589 NY 22, Stephentown, NY (map)
(518) 733-1234
PYO strawberries start June 16. Call for details then.
Swartz Farm
1581 Eleanor Drive, Castleton, NY (map)
(518) 732-7420
The message on their machine didn't have any information about berries, but it looks like they're updating their Facebook page.
Best Berry Farm
1078 Best Road, East Greenbush, NY (map)
(518) 286-0607
Opens tomorrow (June 11) for the first time, from 8 am to noon.
The message says it's still early, and the berries will be better next week.
Saratoga County
Bowman Orchards
141 Sugar Hill Rd, Rexford, NY (map)
(518) 371-2042
Monday-Saturday 9-5 and Sunday 12-5
There's a $2/person pick your own entrance fee, and strawberries are $2.59/pound
Ariel's Farm
194 Northern Pines Road Wilton, NY 12831 (map)
(518) 584-2189
We didn't get a message when calling today, so be sure to check.
Washington County
Hand Melon Farm
533 Wilbur Avenue, Greenwich, NY -- between Schuylerville and Greenwich (map)
(518) 692-2376
Monday-Friday 8-5:30, Saturday and Sunday 8-4:30
pick your own strawberries are $2/pound
____
+ Katie has a few berry picking tips.
+ And Sandra has a collected a big list of pick-you-own places, not just strawberries.
photo: Flickr user kthread
Hi there. Comments have been closed for this item. Still have something to say? Contact us.