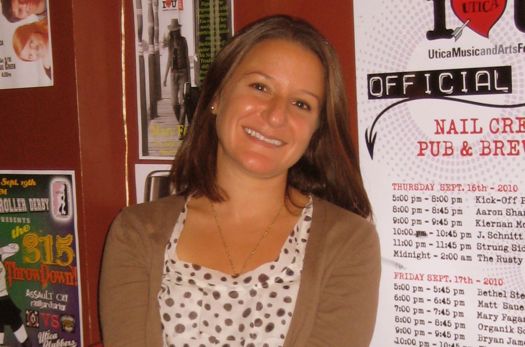 WEXT's My Exit is back. Every Monday night local listeners get to come into the station and program an hour of music. We thought it'd be fun to find out a little bit about these people and why they picked the songs on their play list.
Here's this week's person...
Who:
Tanya Amodio. Born and raised in Utica, NY. I am an English as a Second Language Teacher and have lived in the Capital Region for the past 12 years.
How would you describe your musical taste:
Like me, my musical taste is unique and ever-changing. I prefer live music or live recordings. Bongos, an acoustic guitar, or a saxophone are most likely to win me over and get me dancing. My collection has been greatly influenced by life's experiences and the beautiful people I have encountered along the way. Music is my heart's companion. We grow together. It often speaks what I cannot express, its transcending, and allows me to travel without moving an inch. I love when I listen to a song and I think the entire world is listening with me.

Three Songs from Tanya's My Exit:
Death Cab for Cutie -- "Summer Skin"
Days of extended sun, starry nights, bonding with nature, being a team player, care-free, safe, full of wonder and innovation. The greatest memory of my childhood was our family summer home at Cedar Lake in the town of Clayville, NY.
Grateful Dead -- "Scarlet Begonias"
Imagine life in the heart of gold land? The girl in this melody reminds me of me. Therein the song lies some of favorite lyrics, "Once in a while you get shown the light in the strangest of places if you look at it right."
Ingrid Michaelson -- "Turn to Stone"
This song is multifaceted and the arrangement is surprising. I am reminded how impactual forgiveness can be. And ultimately, what matters most in life is the love you have created and the love you share.
You can hear Tanya's My Exit show tonight at 8 on 97.7 or at exit977.org.
Here's how to schedule your own My Exit show on WEXT.