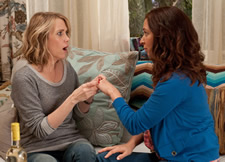 Deirdre emails:
I'm hosting a bridal shower for about 35 women- do you have any suggestions for a location? We're looking for great food and hopefully a private room option, but that's not crucial. Thanks!
There would seem to be a lot of choices. If you've had a good experience at a similar kind of event somewhere around town, maybe you can help Deirdre narrow down the choices.
Got a suggestion? Please share!
film still: Bridesmaids
Hi there. Comments have been closed for this item. Still have something to say? Contact us.