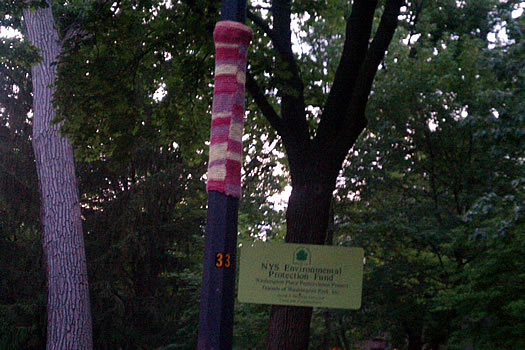 We had heard earlier this week about a yarn bombing in Troy, and Emily was nice enough to swing by Washington Park yesterday to check out the alleged scene of rogue needlework. She spotted the lamp post above.
The start of yarn bombing is attributed to Magda Sayeg, who started a knitting graffiti group in Houston, Texas (everything's weirder in Texas). The idea has since spread -- and this past Saturday was apparently "International Yarnbombing Day."
OK, so why? From a recent NYT article about yarnbomber Jessie Hemmons:
The bronze statue of Rocky near the Philadelphia Museum of Art irked Jessie Hemmons. She found the statue too big, too macho and too touristy, so last month Ms. Hemmons, a 24-year-old artist, bombed him. With pinkish yarn.
Using a stepladder and a needle, Ms. Hemmons stitched a fuchsia-colored hooded vest on the fictional boxer with the words "Go See the Art" emblazoned across the front, to prod tourists to visit the museum that so many skip after snapping their photo with the statue.
She calls the act of artistic vandalism "yarn bombing," adapting a term for plastering an area with graffiti tags.
"Street art and graffiti are usually so male dominated," Ms. Hemmons said. "Yarn bombing is more feminine. It's like graffiti with grandma sweaters."
This past December an artist who goes by the name Olek yarnbombed the bronze bull statue on Wall Street -- and there's video, of course (embedded below).
More pics from Troy after the jump.
Update: we've heard from one of the yarnbombers...
Emails the anonymous knitter:
A group of us host a "Stitch and Bitch" in Troy. The main yarn bomber was moving away, and, inspired by the NYT's article, decided she wanted to yarn bomb Washington Park. She took an old project she had, cut it up, and refashioned it into the lamp post wrap. Following our weekly meetup, some of the group helped to stitch it onto the lamp post (we had to use brooms to get it so high). Will (from troyatnight.com) caught us in the act, and came back with his camera to take pictures. It was quite a fun night, and a fun way to send off our friend!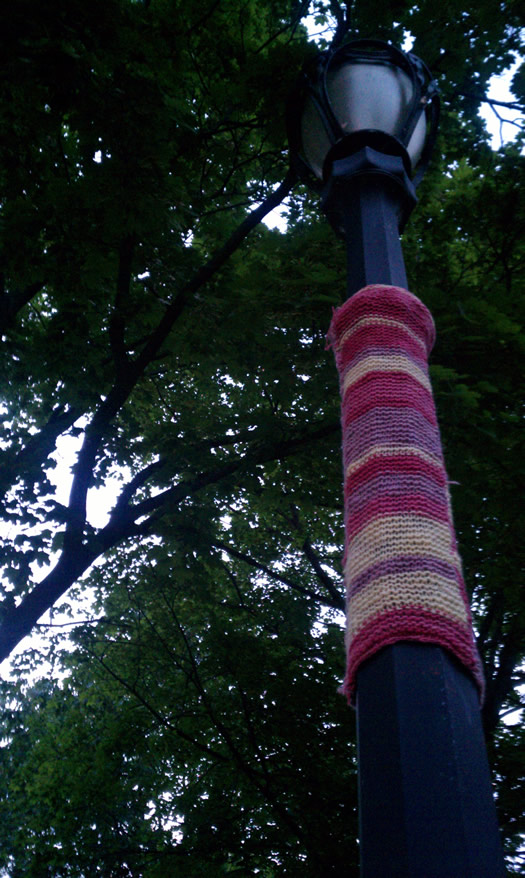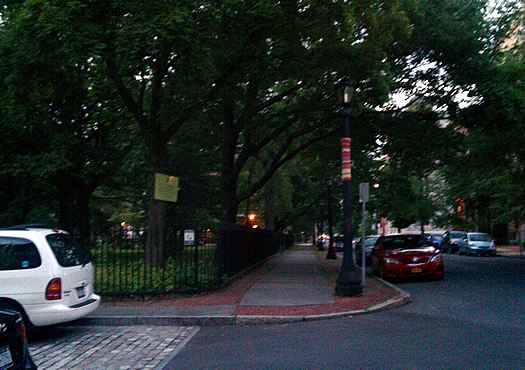 (Thanks, Emily!)
And Olek yarnbombing the bull:
Hi there. Comments have been closed for this item. Still have something to say? Contact us.