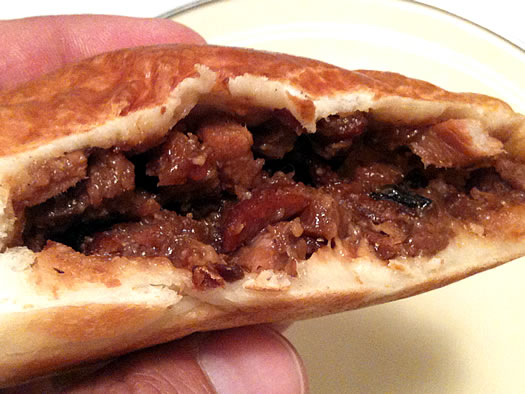 By Daniel B.
As much as anything else, dim sum is an eating style. Regrettably, it's one that is not readily available here. Sure, you can order some of the dishes at a few of our local Chinese restaurants. But without the benefit of rolling dim sum carts it is difficult to replicate the slow, leisurely pace of spending the morning with your friends and family over copious amounts of tea punctuated with tasty things to eat.
And even at those restaurants that do serve dim sum, one of my favorite treats has been elusive: The Baked BBQ Pork Bun.
The steamed barbecue pork bun is a staple of dim sum menus, and it's fine in all of its white and billowy glory. But as good as it is, this puffball doesn't hold a candle to its richer, more golden, baked cousin. For these, you will need to head to the Hong Kong Bakery, which is now inside the Asian Supermarket on Central Avenue.
And if you are lucky, you might just happen to spy a warm tray of them fresh from the oven lurking behind the counter.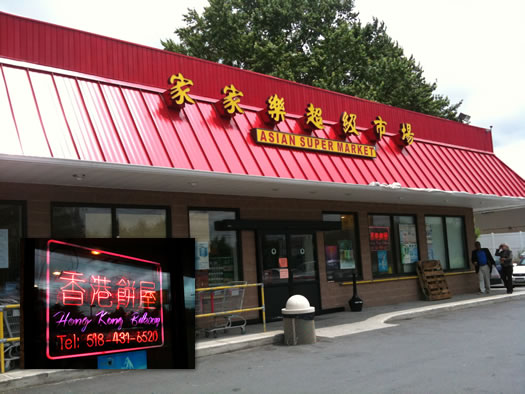 The humble baked pork buns are easy to miss, as there is a lot of interesting food vying for your attention. Not least of which is the side of roast pork and whole roast ducks hanging in the window. There is a cabinet that keeps the steamed buns warm and wet and a buffet-style table filled with hot dishes. By the register are trays of fried delights, like sesame balls and fried mashed taro filled with pork. Occasionally in their midst you might also find something resembling a banh mi sandwich.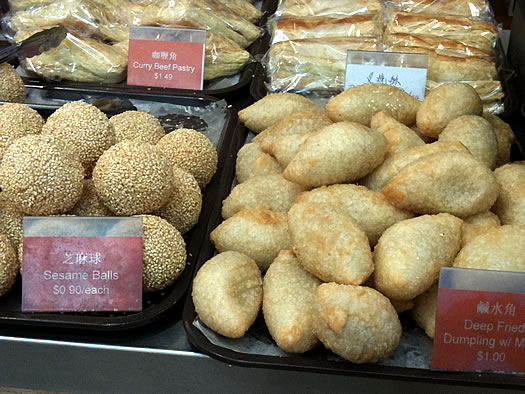 But opposite the register is an entire selection of baked buns.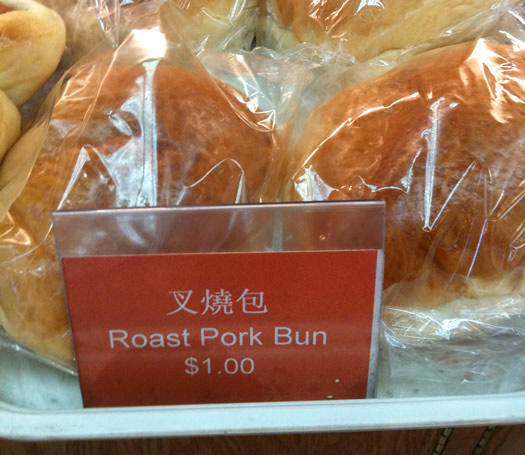 The dough is similar to a good challah or brioche. It is very tender, just a little bit sweet, and remarkably rich. And this dough is filled or topped with a variety of sweet or savory ingredients. The sweet ones (like red bean paste or the purple-hued taro) are great for dessert. However it's the BBQ pork ones that are my favorite.
Look back at the hanging meat in the window. Perhaps you will see a red strip of barbecued pork. Whether or not it is actually barbecued can be the subject of another column, but the meat is shellacked with a sweet red glaze and is deeply flavored with Chinese five spice.
For the buns, this meat is chopped up and sautéed with onions and additional seasoning. A few tablespoons of the intensely-flavored porky filling reside inside each golden bun.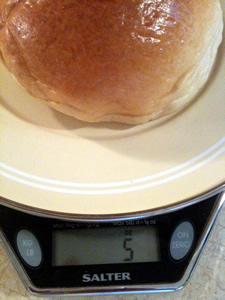 There is just one caveat: this is not health food, and the pork isn't always lean. Sometimes it is, but other times it's unctuously fatty. Occasionally one might find a small piece of cartilage in the filling. However, none of this should scare you off of this special snack.
In dim sum parlors baked buns come three to an order and are relatively small, especially by comparison. At the Hong Kong Bakery, these things are enormous. The one I brought home weighed in at five ounces. That would make two over a half-pound of food.
And given the fact that they are only a dollar each, this has to be one of cheapest ways to fill your belly in the Capital Region.
They are also easily eaten with one hand. So should you ever be heading west on Central Avenue, trying to get to Wolf or even to Fuller Road, I'd highly recommend that you swing into the bakery for a bun or two. Then when you are stuck in the bumper-to-bumper traffic over the next several blocks, at least you will have something delicious to eat.
Daniel B. is the proprietor of the Fussy Little Blog.
Find It
Hong Kong Bakery at Asian Supermarket
1245 Central Avenue
Colonie, NY 12205
Hi there. Comments have been closed for this item. Still have something to say? Contact us.