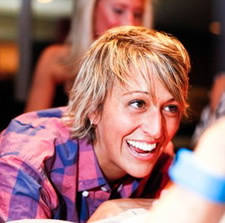 ESPN.com columnist and Siena alum (class of 2002) Mary Buckheit in a commentary for NPR about coming out while in college:
But I am able to rest easy knowing how Father Dan took the news. He was the priest who was tasked with hearing confessions the day I nervously knelt down in the Siena College chapel. "Bless me, Father, for I have sinned," I began, as usual. I started with a few minor transgressions: "I lied to a friend. I broke my teammates' earbuds. I cheated on a calculus exam. And I'm gay."
I started crying. Father Dan, who also happened to be my World History professor, put his hand on my shoulder. He asked me if I was telling him that because I thought it was a sin. And then he quoted a Bible verse. "Don't be afraid," he told me softly. "Indeed, the very hairs of your head are all numbered. Do you know what that means, Mary? God knows how many hairs are on your head! God knows everything about you. He created you. Don't be afraid."
Hi there. Comments have been closed for this item. Still have something to say? Contact us.