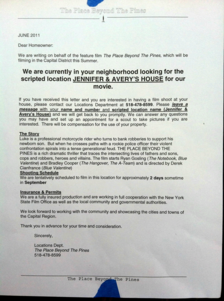 There were a few reports this week that pre-production crews for The Place Beyond the Pines, the movie starring Ryan Gosling and Bradley Cooper, were scouting locations around the Schenectady area.
Jason tweeted that the film's director, Derek Cianfrance, actually stopped by his house Thursday. And @BUNKRE shared the flyer a location scout had left on his house in the Old Niskayuna neighborhood. That's the flyer on the right -- there's a bigger version after the jump.
The flyer says crews are "tentatively scheduled" to film in the neighborhood sometime in September. And the description of the film:
Luke [Ryan Gosling] is a professional motorcycle rider who turns to bank robberies to support his newborn son. But when he crosses paths with a rookie police officer [Bradley Cooper] their violent confrontation spirals into a tense generational feud. THE PLACE BEYOND THE PINES is a rich dramatic thriller that traces the intersecting lives of fathers and sons, cops and robbers, heroes and villains.
It's not any more far-fetched than Angelina Jolie jumping from trucks while being chased by the CIA with the Albany skyline in the background.
By the way: the name Schenectady comes from a Mohawk word that roughly means "beyond the pine plains."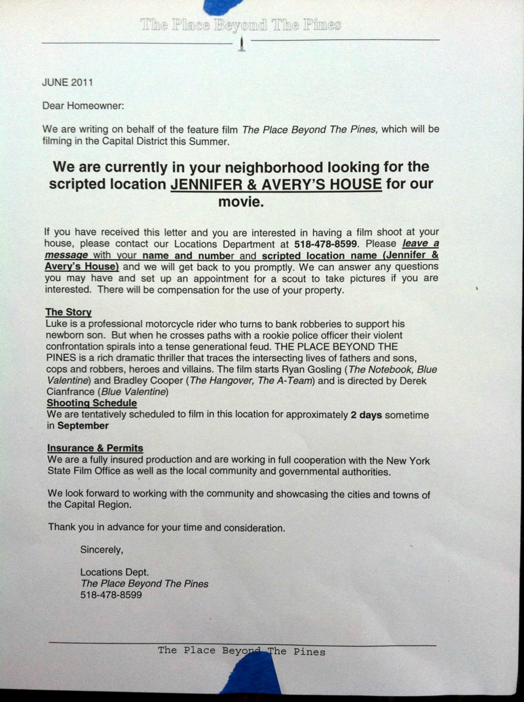 (Thanks, @BUNKRE!)
Hi there. Comments have been closed for this item. Still have something to say? Contact us.