By Noah Sheetz
Ever wonder exactly "what" you are taking out of your garden when you set your mind to the mundane task of weed pulling?
Over the years I've befriended several master gardeners, farmers and herbalists, and it turns out that most of the weeds growing around us are in some way edible or medicinal in nature.
There are hundreds if not thousands of wild edibles in our region, including morel mushrooms, ramps, and fiddlehead ferns, all of which are foraged in the wild and fetch premium prices. In the Albany area there are several edible weeds that sprout up indiscriminately year after year in gardens, lawns, the concrete medians of 787, the cracks of sidewalks, and even on the soil-absent roof tops of buildings.
Here are a few of them -- and recipes on how to prepare them...
Three years ago I visited Abu Talib at the Taqwa Community Farm in the South Bronx for a fascinating lesson on healing herbs and weeds. Growing up in South Carolina, Talib's grandfather had been a respected root man and herbalist and today Talib can tell you about the medicinal properties of every herb and weed that is growing inside the gates of the farm, from Plantain, which can be rubbed on burns and cuts, to Mugwort, Motherwort, and Mullein, which was historically a common treatment for tuberculosis.
Of course, there are a few indigenous plants out there like deadly Nightshade (which is related to other edible nightshade plants like potatoes and peppers) that will kill you if ingested. And 90 percent of wild mushrooms possess varying levels of toxicity, the effects of ingestion of which will cause anything from mild stomach cramps to instant death. [The Editors add: so if you aren't absolutely certain what it is, don't eat it.]
It's fascinating to think about how edible plant life must have originally been classified. Hunger must have been a very powerful motivator in most, if not all, of the decision processes that led people to experiment with eating foreign plant matter. The artichoke is a perfect example to consider. Whoever first decided to eat the thorny prehistoric looking thistle must have been desperately hungry.
Chives and Dandelion Greens
Every spring I look for what has become my official sign that winter is passing, the emergence of chives and dandelion greens. After their spring debut, wild chives are abundant and can be eaten for months. Their flowers make a striking salad garnish but, as with anything, moderation is the key. Their flavor can be quite potent, lingering on your breath for hours after you have eaten them.
Dandelion greens, on the other hand, have a very short "edible" window after their small tender clusters of greens emerge in the early spring. Try to harvest the greens before they flower. After that they are hopelessly bitter. If the greens are young and small enough, you can eat them by themselves in a salad or in a mix of other salad greens. Larger dandelion greens can be sautéed or pan steamed like spinach or chard. Blanching the greens in boiling water before you cook them will take some of their bitter edge off.
+ Recipe for dandelion and onion soup
Lamb's Quarters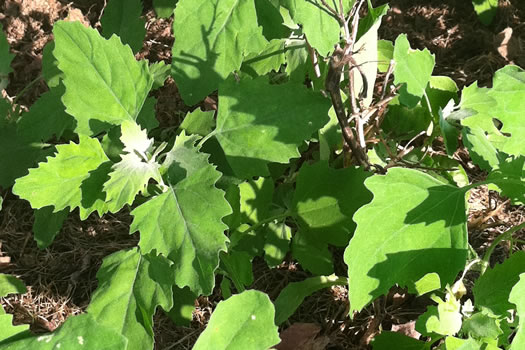 "There aren't as many Lamb's Quarters in the garden this year, I guess because the youth did such a good job weeding last year," Rana Morris, director of Youth Organics, on Hawk Street in Albany told me.
Popular in Europe, Lamb's Quarters are easy to spot with their jagged diamond shaped leaf. They are usually a good indicator of areas with high quality soil, growing in abundance in gardens or lawns, but are also hearty enough to sprout roots in less fertile places, like the crack in an asphalt road.
As summer progresses, Lamb's Quarters will start to flower and the tiny flower buds will look and taste much like broccoli florets. When Lamb's Quarters are young, you can clip the whole plant and flash steam it "broccoli rabe style" in a screaming hot pan with a little water, garlic, olive oil and some chili flakes. Older plants will have woodier tough tasting stems that should be blanched after de-leafing or discarded altogether.
Purslane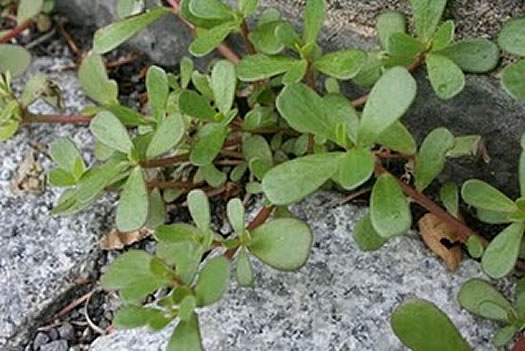 "Although considered a weed in most of the United States, this green has been eaten for centuries."
-The Joy of Cooking
Before educational coordinator Stephen Corrigan left the Produce Project and Capital District Community Gardens I asked him what he thought of Purslane. "You can keep all of it, I don't eat it and I don't like it." I also remember a day several years ago on a Washington County farm tour when I watched the sous chef from the prestigious New York City restaurant Mercer Kitchen snag a handful of it out of a dirt road at Sheldon Farms and pop it into his mouth. "I love this stuff."
Purslane, like Lamb's Quarters, is regarded by most people as an annoying weed, growing anywhere and everywhere - in gardens and flowerbeds, but also the cracks of sidewalks. Sometimes you'll see it discreetly mixed into a mesclun salad mix but rarely is it celebrated as a main attraction (although I did see an episode of the TV series Top Chef where one of the contestants served a Purslane puree as part of a dish. Sadly I can't remember what the rest of the dish was).
Purslane has a beautiful Jade like appearance and a bright refreshing citrus flavor. I've picked and eaten it with children and while they are generally open to eating it, I'm not sure why, as is the case with other wild edibles, that Purslane has not gained in popularity among the adult masses (especially among today's adventurous salad fanatics). Despite a mysterious and dismal lack of public appeal, it makes a really interesting salad green and a nice puree when it is cooked.
+ Recipe for Purslane soup
Stinging Nettles
Stinging nettles grow wild throughout New York State, usually in moist areas near streams, ponds and lakes. In Albany look for nettles along the Hudson River, especially the walking trail of the Corning Preserve. Recently many farmers throughout the Capital Region farmers markets, and the Heldeberg online farmers' market, have begun to offer nettles as part of their early spring vegetable selection.
Nettles have a diamond shaped serrated leaf with tiny microscopic hooks that cause a strong skin irritation and rash if handled with bare hands. While they are perfectly safe to eat, delicious and highly nutritious in fact, they must be cooked first to eliminate the stinging reaction. Personally I think nettles are perfect lightly steamed with some butter, kosher salt and cracked black pepper. They have a deep spinach-like flavor and, when boiled with some peeled potato and a dash of heavy cream, make a perfect vegetarian broth, delicious on its own or as a base for other vegetarian soups.
+ Recipe for nettle quiche
Many others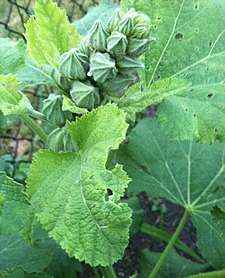 There are dozens, if not hundreds, of other edible weeds growing around Albany.  Most of them taste like spinach. 
Perhaps one of the most versatile greens is Amaranth.  The leaves can be cooked and, after the plant has flowered and dried on its stalk, it can be thrashed to remove the papery outer hulls from the seeds.  The seeds can be boiled into a hearty whole grain cereal that is similar to oatmeal. 
This year Burdock grew up in my community garden plot, looking much like winter squash in the beginning but finishing with its tale tell burr-like flower clusters (photo on the right).  Burdock is prized for a portfolio of medicinal and herbal properties, but also for its edible root that is much like a water chestnut and can be substituted in soup and stew recipes that call for potatoes. 
Lamb's Quarters are also dominating the empty spaces in my garden.  I must not have done as thorough a job weeding last year as the summer crew did at Youth Organics. 
Even so, the task of weeding doesn't seem as mundane and pointless as it once did.  As the fate of the economy remains uncertain, and as food prices threaten to rise, it's nice to know there will always be something around to eat.... that's free, no less.   
Noah Sheetz is an executive chef, local food advocate, and a member of the Chefs Consortium.
Recipes

Creme de Pissenlits (Dandelion and Onion Soup)
This soup recipe can be made entirely from spring-foraged chives and dandelion greens. Balancing the dandelion's spiciness and subtle bitterness with the bright and mild onion flavor of spring chives, it is vegetarian with a deep flavor and a mild and pleasantly bitter finish. It is delicious, a perfect way to eat dandelion greens. The traditional French recipe uses Dijon mustard to add some depth, but you may prefer to leave it out.
Ingredients
1 pound (about 3 cups) dandelion greens, trimmed and washed
1 tablespoon olive oil
2 cups water
1 large bunch of chives, root bulbs attached, washed
1 cup milk
1 tablespoon Dijon mustard (optional)
Salt and pepper to taste
Look for spring Dandelion greens when they are just "crowning" - they will be at their most tender, with the least bitterness of the season. If using more mature or very bitter tasting greens, blanch them in a pot of boiling salted water, then drain and squeeze out the excess water, chop and set aside. Heat butter or oil in a large pot over medium low heat; add the greens and chives and cook, stirring often, for 5 minutes. Add 1/2 cup of the water and continue to cook partially covered over low heat for another 10 minutes. Add the remainder of the water and simmer for another 10 minutes. Heat the milk in another pot. Puree the greens and cooking broth in a blender until smooth. Add just enough milk to adjust the puree to a light and velvety consistency. Season with salt and pepper, and add Dijon mustard.
____

Cream of Purslane Soup
From The Joy of Cooking
5 cups of chicken stock
3 tablespoons brown or white rice
1 bunch Purslane (about 7 ounces), chopped or pureed
1/2 cup hot heavy cream
1 tablespoon chopped parsley
2 eggs, well beaten
Simmer the broth and rice in a pot until the rice is tender, about 35 minutes. Stir in the Purlsane, cream and parsley. Simmer the soup about 5 minutes. Stir a small quantity into the beaten eggs. Add this to the rest of the soup slowly. Gently heat the soup over low heat for about 5 minutes. Serve immediately.
____

Nettle Quiche with Smoked Cheese and Arugula Radish Salad
from Chef's Consortium on Let's Eat - Channel 13)
2 large handfuls of washed stinging nettles (substitute 4 cups chopped Swiss chard or spinach if desired)
1 tablespoon butter
3 eggs
1 ½ cups heavy cream
1 cup grated smoked cheese
½ teaspoon salt
½ teaspoon pepper
Pinch grated nutmeg
1 nine inch pie crust, partially baked
4 cups arugula
1 large radish, grated
Olive oil
½ lemon
To cook the nettles:
Heat the butter in a medium sauté pan. With tongs or a gloved hand, add the washed nettles to the pan. Add one tablespoon of water and cover the pan. Cook the nettles covered for two minutes. Remove the lid and continue cooking until most of the water has evaporated. Allow the nettles to cool for a few minutes and then roughly chop them.
In a large bowl, combine the nettles, eggs, cream, grated cheese, nutmeg, salt and pepper and whisk well. Pour the mixture into the partially baked crust and bake at 350 degrees for 40-45 minutes until a toothpick inserted in the center comes out clean.
For the salad:
Combine the greens and grated radishes in a large bowl. Season with salt and freshly cracked black pepper. Add one tablespoon of olive oil and a squeeze of lemon. Toss well. Serve the quiche in wedges with the salad.
____
Earlier on AOA: Noah's ode to local fast food

Say Something!
We'd really like you to take part in the conversation here at All Over Albany. But we do have a few rules here. Don't worry, they're easy. The first: be kind. The second: treat everyone else with the same respect you'd like to see in return. Cool? Great, post away. Comments are moderated so it might take a little while for your comment to show up. Thanks for being patient.