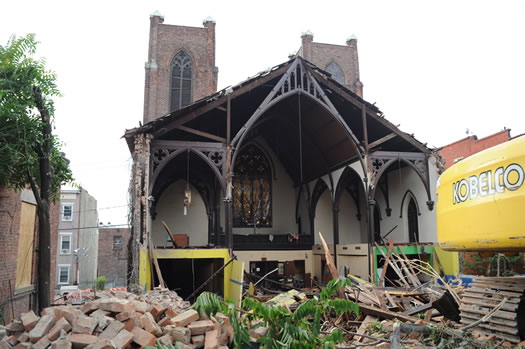 This photo of the crumbling Trinity Church in Albany is from Chuck, who stopped by the site this morning. The building partially collapsed Monday night, and yesterday the Albany Fire Department decided the building had to be completely demolished. [Fox23] [TU]
Trinity Church was built in 1848. It was designed by James Renwick Jr., a prominent 19th century architect who would later design St. Patrick's Cathedral in New York City (and many other buildings). In 2005, the Historic Albany Foundation added the church on its endangered list. Trinity was one of the oldest remaining Gothic-style buildings in Albany. [Wikipedia] [Wikipedia] [HAF] [Architects in Albany] [Albany History]
Paula has pulled together a bunch of links about Trinity.
Update: The church's stained glass windows have been saved. [TU]
(Thanks, Chuck)
Later on AOA: Chuck is gathering a photoset of the building's gradual demolition.
Earlier on AOA:
+ A short tour of Albany's historic stained glass
+ Saints vs. The State for Washington Avenue
photo: Chuck Miller
Find It
Trinity Church
31 Trinity Place
Albany, NY 12202
Hi there. Comments have been closed for this item. Still have something to say? Contact us.