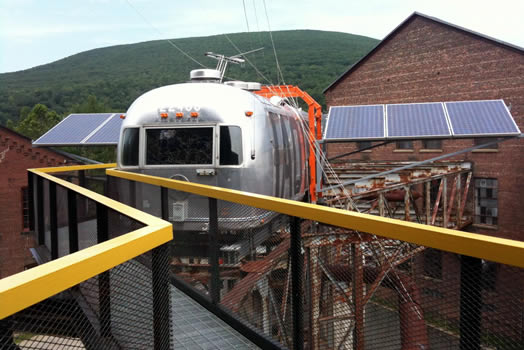 We were out at MASS MoCA recently and finally had a chance to check out All Utopias Fell, Michael Oatman's outdoor installation there. We're glad we did. It's fun.
The installation is a collection of three elements. From the MASS MoCA blurbage:
The Shining is a 1970s-era 'satellite' that has crash-landed at MASS MoCA. This beautifully reflective, repurposed Airstream trailer - with large parachutes and active solar panels - is inspired by an earlier era of pulp aeronauts like Buck Rogers, Tom Swift and Tom Corbett: Space Cadet, as well as the works of Giotto, Jules Verne, NASA, and Chris Marker's 1962 film La Jetée. Visitors will be allowed to climb a staircase and enter into the craft where they will encounter The Library of the Sun. Hybridizing a domestic space, a laboratory and a library, it has the feel of a hermitage, where the occupant will 'be right back', only it is 30 years later. ... Once inside the craft, visitors will also be able to view Codex Solis, a massive field of photovoltaic (PVs) or solar panels. At 50kw, the field will generate 7% of the power consumed by MASS MoCA. In addition to this 230-foot long grid, mirrors are interspersed in the middle of the field, and suggest an absent text. The arrangement of mirrors and solar panels is based on a specific quote by an unnamed author, and will not be revealed by the artist; instead the public will be encouraged to spend time with the piece, watch the reflected sky, and solve the riddle as birds and planes, inverted, fly by.
The trailer is great. It's like something from an alternate reality, in which you could have gone camping in space during the 1960s -- and the owner of this particular trailer was a bit on the obsessive side. The inside is a meticulously constructed world, down to the jars of tomatoes.
All Utopias Fell is a seasonal exhibit. It's perched at the top of a few flights of metal stairs outside the old power plant for the factory that preceded the museum at the site. The exhibit is open through October.
After the jump: an interior pic, plus a few bonus pics.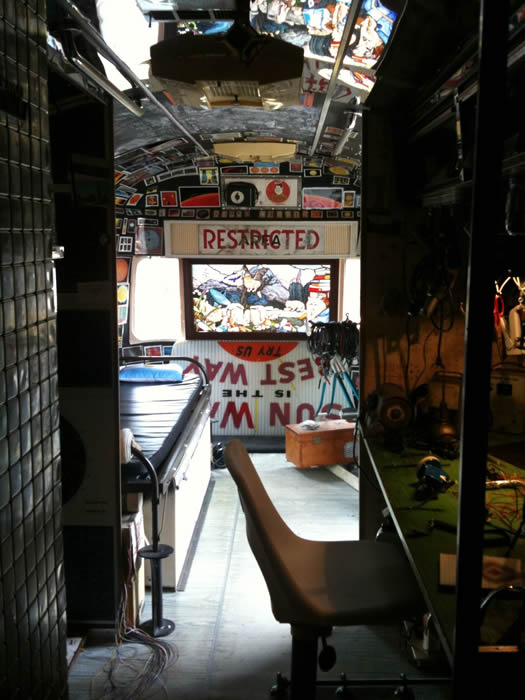 This is One Floor Up More Highly, by Katharina Grosse. Hey, where are you going to see huge piles of spray painted dirt with styrofoam icebergs other than MASS MoCA?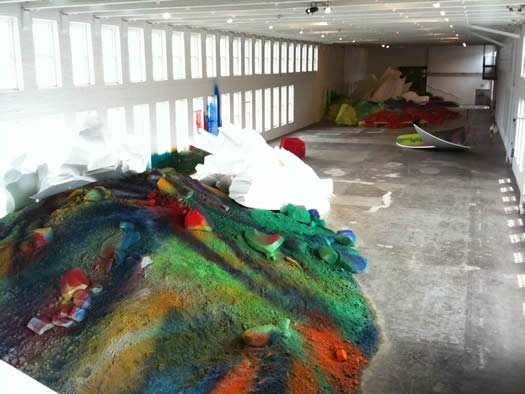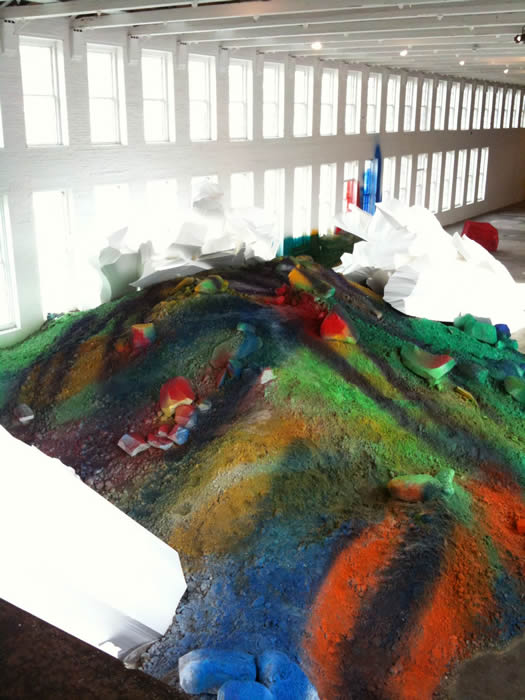 And just because we love the Sol LeWitt retrospective...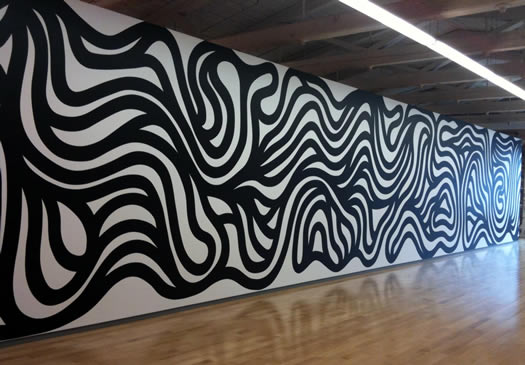 Hi there. Comments have been closed for this item. Still have something to say? Contact us.