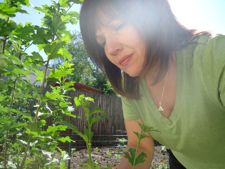 WEXT's My Exit is back. Every Monday night local listeners get to come into the station and program an hour of music. We thought it'd be fun to find out a little bit about these people and why they picked the songs on their play list.
Who?
Joanna Zwink, local day care provider and mom from Colonie.

How would you describe your musical taste?
When I hear something I like lyrically it doesn't usually matter what genre it falls into. I will never change the station on Van Morrison "...just to dig it all an not to wonder, that's just fine..."

A few songs from Joanna's My Exit show:
I chose songs that reminded me of people and times in my life that stand out to me.

Thunder Road - Bruce Springsteen
I took my daughter to his show 2 years ago and she couldn't believe an ol' man could rock like that.
Second First Kiss - written and recorded by my cousin, a very cool cat Michael Charles Roman, who really has way too much talent for one person.

Edelweiss sung by the original cast of The Sound of Music because it really is the first memory I have of falling in love.
You can hear Joanna's My Exit show tonight at 8 on 97.7 or at exit977.org.
Here's how to schedule your own My Exit show on WEXT.
Hi there. Comments have been closed for this item. Still have something to say? Contact us.